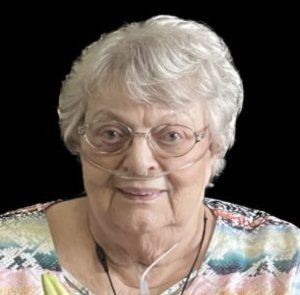 Eva Joan Johnson Fugo
Eva Joan Johnson Fugo, 87 of Abingdon, VA, formerly of Clarksburg, WV, passed away at Johnston Memorial Hospital in Abingdon, April 3, 2023.
Mrs. Fugo was born in Flemington, WV, on July 12, 1935, the daughter of the late Albert J. and Blanche E. Fowler Johnson.
Her husband of 66 years, Vincent "Jimmy" Fugo, whom she married on December 26, 1954, preceded her in death on December 3, 2020.
Mrs. Fugo is survived by one son, Vincent J. Fugo and wife Sarah Jane of Abingdon, VA, and daughter, Lisa Fugo Dooley and husband John of Blacksburg, VA. She was grandmother to five grandchildren: Sarah Beth Fugo Anderson (Dwyane), Vincent "Joe" Fugo, Nicole Dooley Hartin (Tim), Stacy Dooley Shore (Hill), and Rebecca Dooley McAvoy (Cory). She also had ten great grandchildren: Betty Jo, Mary Jane, and Drew Anderson; Vinny Fugo (mother, Karla Allison); Jack and Sam Hartin; Freddy and Josie Shore; and Audrey and Micah McAvoy. She is also survived by sister Annis (Gene) Papa, brother John (Twila) Johnson, sister-in-law Florence Johnson, and brother-in-law Arden Lynch; as well as several nieces and nephews. In addition to her husband and parents, she was preceded in death by sisters Barbara Lynch and Martha Wheeler; and brothers Bobby Johnson and George "Dicky" Johnson.
Joan spent much of her work career as an office manager for local medical practices. She was a member of the Immaculate Conception Church and the Broadway Girls. Joan loved her family and adored her children, grandchildren and great grandchildren. She was a cook-extraordinaire, who loved to share her delicious creations with family and friends. You would never leave her home hungry.
Family and friends will be received at the Immaculate Conception Catholic Church on 126 East Pike Street in Clarksburg, Saturday, April 22, from 10 am–12 noon where a Memorial will be celebrated at 12 noon with Father Casey Mahone as celebrant. Private interment will be held in Floral Hills Memorial Gardens.
In lieu of flowers, memorial contributions may be made to a hospice program of your choice.
Expressions of sympathy may be extended to the family at www.amoscarvelli.com.
A service of Amos Carvelli Funeral Home.