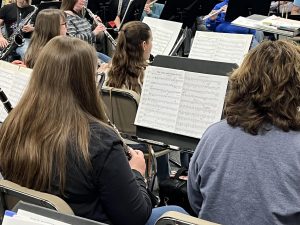 By Kara Linaburg
The Shinnston Community Band is kicking off their 2023 season. Rehearsals began April 18 at Lincoln High School.
"That will be our first rehearsal," Russ McIntyre, president of the band, said. "We will get started at Lincoln High School. Right now we are in the process of gathering up all the music, and then we are going to perform and make sure there is enough (music) for everyone to go around. We can get started and hit the ground running so to speak."
McIntyre has been part of the band from the beginning in 1996, when he and other members of the community got together to organize.
Kathleen Panek, a musician in the band, has also been with the group since the beginning. She recalls when the idea for the band first came about.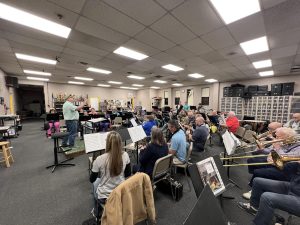 "They had an all school reunion of Shinnston High School in 1996, and the members of the 1952 Shinnston High School band put on a concert," Panek, who plays symbols, triangles and other instruments in the percussion section, said. "And everybody had such a good time with it, that it was decided that oh, we're going to have a Shinnston community band. And they invited anyone who wanted to pick up a horn and come, and we started in the fall, and over the years we've had people come and go and come back, and it grew and grew."
The band may have as many as 70 members this year, and ages of the members range from middle school to adult. Students from West Virginia University and Glenville State University also come to join the band, as well as a wide variety of doctors, lawyers, and teachers, among other professionals from the local area and surrounding counties.
McIntyre said that while other towns have bands, a band this size and with so many different ages is unique. "You get to meet everyone else, you know, people you might never get to meet in that type of circumstance," he said. "You know your doctor but you don't get to socialize with your doctor. You get to be friends with them, and you get to know these people and you network and you get to know your community.
"The community at large has always been very fond of music and the arts," McIntyre said. "Music is a big part of Shinnston's heritage and the band really helps to solidify that, and I think the community really likes to have these performances."
The band has played in various places, including Palatine Park in Fairmont, the Clarksburg Amphitheater, the Robinson Grand, churches, and various other places.
"It's been fantastic," Panek said. She said that the band is important to the community because "it's music," making it something anyone can participate in, whether it's by playing an instrument or listening to free music together.
As for the first scheduled performance of the year, McIntyre said that folks will be able to find them at the Ferguson Memorial Park July 2. "That's the night the city will have the fireworks and everything down at the park," he said. "Right now that's the only thing on the schedule, but we are planning at least one more performance, but we don't have the details on that yet."
For those interested in joining the band, they are always looking for new members of any age and talent. McIntyre urges people who may not have picked up their instrument in a while to still consider joining this important part of Shinnston's heritage. "It's representative of the community," he said.