By Maralisa Marra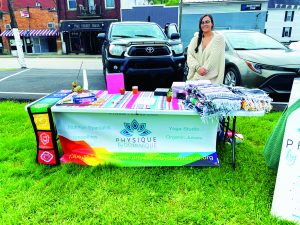 Shinnston held its first Farmer's Market on the Green Space Sunday, May 8. The Farmer's Market is an effort by Maria Cusack, curator of the market, to foster more of a community environment and promote healthier living in the Shinnston area. 
Cusack, co-owner of Black & Teal Concepts, said she was pleased with the turnout of the first market and is excited for the markets to come. Cusack said her goal for The Farmer's Market is to prompt the Shinnston community to purchase from and support local businesses, as well as encourage local businesses to support one another. 
The Farmer's Market will take place on the Green Space every first Saturday of the month from 10 a.m. to 2 p.m. until October, with Sundays being the rain date. 
The market featured seven vendors: Dave's Shirts & More, Garrett Fab Works, Gray Farms, Mother & Son Candle Co., Physique by Dominique LLC, Soul Miner's Daughter, and Stoney Knob Woodworks and Custom Creations LLC.
 Owner of Soul Miner's Daughter Sarah Benson said, "As long as I've been here there has not been a farmer's market. Now it's really great to see one," and she thinks it is great to have local supporting local. Her herbal health and beauty products are made from homegrown, natural herbs and plants, and she wants to share the benefits of her natural beauty products with the Shinnston community.
Each vendor expressed their excitement and eagerness to bring the Shinnston community together through the efforts of the market. Dominique Demus, owner of Physique by Dominique LLC, is a personal trainer and yoga instructor and said she wants to help, give back, and serve her community. She also hopes to offer a yoga class on the Green Space at the next Farmer's Market on June 4. 
Cusack expects double the vendors for the next market. There will be fresh meat and eggs, and she is hopeful to find a fresh produce vendor before then, too. She also wants to incorporate live music and bring in a food truck for some of the future markets.