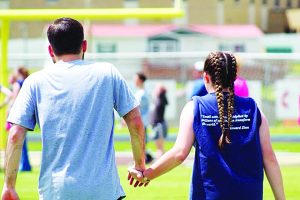 By Maralisa Marra
         Lincoln High School's Key Club hosted their Special Olympics for high school and middle school students with disabilities on Friday, May 13 at Stydahar Field in Shinnston. 
         Savannah Jones, president of the Key Club, said they had been unable to hold the Special Olympics for two years because of COVID-19. Jones also said they are hoping to involve the whole county in the following years but used this year's event as a trial run for students from Lincoln High and Lincoln Middle.
         This trial run appeared to be a success because each contestant smiled from ear to ear and the entire field was roaring with laughter and excitement.
         Key Club advisors and teachers Mrs. Rebecca Jones, Ms. Mary Matheny, and Mrs. Maria Osbourn assisted the student Key Club members in the planning of the Special Olympics. Events included frisbee throw, long jump, football throw, egg spoon race, football kick, watermelon seed spitting, sack race, dizzy bats, and the 50-meter dash. Other activities were available for all attendees, including corn hole, face painting, dancing, and parachute.
         As the Special Olympics commenced, all students participated in a tug of war dual, and an awards ceremony concluded the events.
         In addition to all the hard work from the Key Club, Lincoln High's yearbook members were also present to document the memorable day.