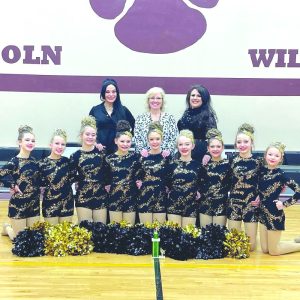 By Mary Heinrich
Thanks to confidence, focus, and a beautifully executed performance, the Lincoln Middle School Wildcats danceline mauled the competition on Jan. 29, beating out three other schools in the county dance championship.
Led by eighth grader Chelsea Boyles, the team also consists of eighth graders Danica Gherke, Kadee Kis;  seventh graders, Addison Riley, Heidi Thomas, Payton Van Pelt; and sixth graders Audrey Rodeheaver, Aralyn Southern, and Lorelai Wolfe.
Lincoln High School played host to the contest, opening their doors to danceline teams from Bridgeport Middle, Mountaineer Middle, WI Middle, and Lincoln Middle. 
Even though danceline is a fairly new sport to the area, having arrived in 2010, the gymnasium was packed with people.  The music rang from the rafters.  Cheers exploded throughout the building.  
All four teams were required to perform two routines, each two and a half to three minutes in length.  Before the competition, the teams chose a number from a bucket to decide the order in which they would perform.  
Organizers canceled the competition in 2020 and 2021 due to the COVID-19 pandemic. But team members did dance during that time. They performed during football and basketball games, and most of the girls take dance class outside of school. 
But there is nothing like competition to bring out the best in an athlete. This year brought a new energy to the gymnasium, and when the Lincoln Middle School Wildcats took the floor, the room came alive.  
This group of nine girls commanded the attention of everyone in the room.  Wearing sleek black and gold unitards with thick, black headbands, they stood out from the other teams dressed in more traditional, sparkly dance costumes.  
The Wildcats moved as one unit in everything they did, and they didn't miss a mark through the entire routine.  
It was obvious, Lincoln had come to win.
After the first routine, the teams are all given time to go change their costumes before their second routine.  
Once again, the Wildcats set themselves apart.  Wearing sparkly, but still sleek, black, and gold biketards with gold hair pieces, the team resembled the sleek cat which represents their school.  
Their second routine appeared as effortless as the first.
At the end of the day, the Lincoln Wildcats walked away with top honors while Bridgeport Middle took home the runner-up prize.  This was Lincoln's first top prize finish!
Lincoln coach Melissa Garrison said they didn't have long to prepare.  
"We were given about two and a half weeks to prepare, which is a less than ideal situation," she said. "But we talked to the girls and explained what would be expected of them and they wanted it! From then on, they were focused!"
That focus showed in their performance. Intentional practice was visible in every step of their routine.  
One of the things that sets dance apart from many other sports is that it is both athletic and artistic. While demonstrating impressive athleticism, dancers also must never let their smiles leave their faces.
 The Wildcats absolutely managed to merge the two skills on Saturday.  
Garrison said her girls are "beautiful inside and out." 
She also said that confidence was evident because "their parents, families, friends, and so many from the community were there to watch them and everyone believed in them," and that their coaches are teaching them that "confidence speaks volumes".
Moving forward, Garrison and her team, Assistant Coach Melody Wolfe and Choreographer Ingra Pratt, plan to become more familiar with the county rules and schedule. When contemplating next year's team, Coach Garrison said they will be losing three "amazing eighth graders," but she feels certain that her current sixth and seventh graders will step up to fill the spots.  
She was also encouraged when she looked up into the stands Saturday and saw several students showing great potential.  She feels confident that now that the girls have won the county championship, "these girls are going to want it again!"