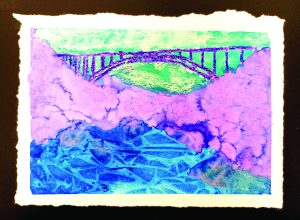 By Erin Beck
Editor
Two Shinnston middle-school students are among the winners of the fourth annual Almost Heaven Governor's Art Exhibition, state officials announced last week.
The contest was designed "to showcase student creativity and the arts," according to a news release. This year's theme was: "What does America's newest national park – the New River Gorge National Park & Preserve – mean to you?" Winners' artwork will be featured on postcards for the Department of Tourism.
Peyton Hamrick, a seventh-grade student at Lincoln Middle School, won second place in the middle-school division with "Bridge Over the Mountains."  
Raley Cochran, a sixth-grade student at Lincoln Middle School, won third place in the middle-school division with "Winter at New River Gorge." 
First, second, and third-place winners in three divisions, elementary school, middle school, and high school, will receive Blick Art Materials gift cards in the amounts of $100, $50, and $25, respectively.
Peyton used a tool on scratch paper to create shadows and depth in a scenic, black-and-white piece, featuring the historic New River Gorge Bridge and surrounding mountains, skyline, and the New River. Peyton said the drawing "signifies the beauty of the state that I call home." 
"I like art because I get to express myself through creativity," she said. 
Peyton said she felt proud and excited to win second place, and she planned to practice more art with the new supplies.
Raley used watercolor to create an imaginative version of the same recognizable landmark, the New River Gorge.
"I wanted to capture the beauty of the New River Gorge in winter," she said.
Raley was shocked and excited to have won third place. 
She said she's loved art since she was little, so she would have continued creating it even without the recognition of her talent. 
"I like art because it does not always have to be perfect, like in my painting of the bridge, I made the snow purple," she said. "It is also very fun and exciting."
Submitting student artwork to the contest was optional for teachers. But Beth Roselius, who started teaching art at Lincoln Middle School this year, said she typically enters her students in as many contests as she can. She hopes winning helps them feel confident in their abilities.
A previous art teacher left when COVID-19 hit, then last year, school officials filled the position with long-term substitutes, she said. She noted that many elementary schools in Harrison County, even though her classes are the reason some kids get excited to come to school.
"My goal is to develop not only a strong program, but to really get students excited about art and, and what it can open up for them," she said. "And just to see them realize that they're good at something." She hopes to see students find "something in them that they didn't know they had before."
Shinnston is about two hours from the new national park. Roselius said she showed students pictures and asked them critical thinking questions, like "what types of things would you do at the New River Gorge?" She said those were questions that got kids thinking, "maybe I don't live there, but there are things that I can relate to."
In the press release last week, Gov. Jim Justice, the West Virginia Department of Tourism and the West Virginia Department of Arts, Culture and History also announced that the winning entries are among 275 pieces from students in 12 counties now on display outside the governor's office at the State Capitol.
Before coming to Lincoln Middle School, Roselius taught other students who placed in the contest. She said state officials held a reception in Charleston two years ago, but not last year because of the pandemic. As for this year, she said she hadn't heard from state officials, but the school principal planned to make an announcement about the local winners this week, and that she would plan an award ceremony at the school.