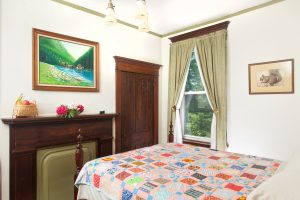 By Stephen Smoot
Three and a half years ago, with the Gillum House Bed and Breakfast nearing its 25th year of business, it faced one of the biggest killers of small business seen in recent years. 
At the time, Kathleen Panek, owner of the establishment, told WBOY "This lockdown basically that is what it is, you're to stay home, people are not traveling, people are not able to go shop, they are not even allowed to go to church properly, the churches are suffering, the non-profits are suffering, nobody has any money, nobody is working so they are depending on unemployment."
Even though small business beds and breakfasts across the United States closed down, or operated at a limited capacity and struggled to rebound, Gillum House has enjoyed resilient business as Mountain State tourism booms.
The thriving business today started as a dream about 40 years ago. Panek, who came from Illinois, remembered "I was getting Yankee magazine and had heard of B and Bs. We were going east on US 30. It was dark in summertime.
The family of six "passed a place with a lighted sign with a millstone. It was the Millstone Inn."  They stopped there and found an owner willing to make arrangements to give the family a comfortable place to sleep, despite only having two open rooms. 
In the morning "we go down to breakfast," Panek remembered. She had seen the phrase "Continental breakfast," so did not expect "a variety of breads, muffins, juice, coffee, and milk."
"We didn't walk out. We rolled out," Panek laughed. At the time, she said "I could do that."
A decade or so later, with their children moving into adulthood, they decided to take the plunge and relocate to West Virginia to start a bed and breakfast. Panek maxed out her vacation time at her job looking for possibilities, believing "the right house will tell us." 
On the fourth trip, she saw Gillum House on the market. It had not been listed prior. When Panek first "walked in the door and saw the house, I said 'stop looking.'"
Since 1996, when Panek opened the Gillum House, the industry has both grown and evolved. New owners often face a steep learning curve of what to offer, how to set up lodging, and more. She originally planned to open in May of 1996, but had to push to July as she learned more about business needs after attending an industry conference.
Panek found that partnerships and packages helped to both grow her business and also promote more visits to Shinnston and the surrounding area. For example, she forged an agreement with the Shinnston Historical Association to offer a two day nuptial package, the centerpiece being  a wedding in the Lewis Shinn cabin. It included photos on a DVD, food, and more.Panek also added a two tier wedding cake made from her mother's recipe.
Gillum House kept abreast of tourism trends and fads, offering experiences catered to motorcyclists, bikers and hikers, horse lovers, covered bridge admirers, and even enthusiasts of the highly popular West Virginia themed video game, Fallout 76.
"I keep reinventing us," she noted.
For Fallout 76 players, she printed out town by town lists of sites also featured in the game. This includes Woodburn Hall at West Virginia University, the Baltimore and Ohio train station in Grafton, and iconic Camden Park in Huntington.
Then came 2020.  According to industry research site IBIS, "The headwinds conjured by the pandemic have not been kind . . .  They prompted stern challenges and cast cloudy uncertainties for these small-scale entities." 
Despite fears, the industry continues to grow. In 2023, it experienced "an exceptional spike of 5.2 percent growth."
West Virginia has outpaced most of the nation in tourism spending since the pandemic. According to the office of Governor Jim Justice, the state saw a $7 billion spending impact this year, "a 17 percent increase in visitor spending over pre pandemic levels."
Specifically, "lodging spending surpassed $800 million for the first time ever, led by a 275 percent increase in short-term rental revenue since 2019."
Bed and breakfast establishments provide more than just a place to sleep and a bit of food as one makes their way out in the morning. They are an evolving holdover from a bygone era. Comfortable surroundings, a family atmosphere, and home cooking appeal to the desire for a simpler and more friendly time in America.
Gillum House both outside and in hearken back to the architecture and furnishings of a century ago or more. Sturdy hand-crafted antiques invite the guest to sit or lay down. Panek's late husband's paintings grace the walls of the rooms, adding even more of a family touch.
One visitor wrote in her guestbook, of which she now has four, "It has been a pleasure to just sit back and relax and enjoy just a little bit of God's greatest joys."
And homestyle surroundings do not merely appeal to people from this country. Panek states "we've had people from all over the world. One couple came back off and on for 17 years." One visitor, a professional wrestler from Great Britain, wrote in her guestbook, of which she now has four, "thank you for a warm welcome, great hospitality, and a wonderful stay." 
He also made sure to praise Panek's tremendous culinary skill, adding that "The muffins were fantastic!"