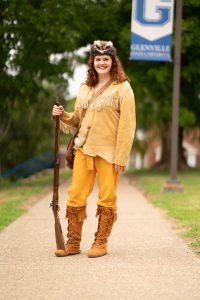 Glenville State University is thrilled to introduce Kyla Lovejoy as the new Pioneer Mascot, embodying the spirit, energy, and pride of the university's vibrant community.
Selected after an extensive and competitive search process, Kyla Lovejoy, a native of Chloe, West Virginia, emerged as the perfect embodiment of the university's values and traditions. With a strong commitment to representing Glenville State University with enthusiasm, Kyla is poised to become an exceptional ambassador for the university, both on and off the field.
"I am excited for Kyla to represent Glenville State University as the Pioneer for the 2023-2024 year! She is an engaged student leader, and I am confident that she will bring a unique perspective to the role where her leadership and communication skills will be on full display, said GSU (Glenville State University) Director of Student Life Conner Ferguson."
Kyla Lovejoy is no stranger to Glenville State University, having actively participated in various campus events and student organizations during her time as a student. Her involvement in community service, leadership roles, and her genuine enthusiasm for Glenville State University set her apart as the ideal candidate to carry the torch as the Pioneer Mascot.
"I am incredibly honored and excited to be selected as the new Pioneer Mascot," Kyla Lovejoy expressed. "Being able to represent Glenville State University is a dream come true. I look forward to engaging with the students, faculty, staff, and alumni, and to bringing an unforgettable spirit to our campus."
As the Pioneer Mascot, Kyla will play a pivotal role in enhancing the university's presence at athletic events, community gatherings, and various campus activities. Her infectious energy, engaging persona, and dedication to fostering a positive atmosphere will undoubtedly resonate with everyone associated with Glenville State University.
Glenville State University eagerly anticipates Kyla Lovejoy's first appearance as the Pioneer Mascot during the upcoming fall semester, symbolizing a new era of unity, enthusiasm, and shared pride within the Glenville State community.
For more information about the Glenville State University Pioneer or to request an appearance, contact the GSU Office of Student Life at Student.Life@glenville.edu or by calling (304) 462-6400.