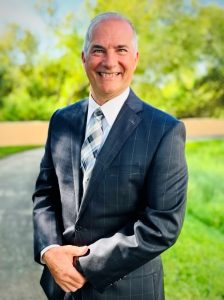 Bridgeport—David F. Hess, M.D., president and CEO of WVU Medicine United Hospital Center (UHC), announced today the appointment of Charles W. Papa, as the new Vice President of Support Services at UHC.
"We are thrilled to welcome Charles as part of the executive leadership team at WVU Medicine United Hospital Center, as I am confident that he will serve as a thoughtful leader and mentor to those he directly oversees," said Dr. Hess.  "His extensive background, with more than 30 years of leadership in facilities management, will only continue to enhance the growth and development of UHC in the region and in the state.  Awarded with a national Department of the Year by Healthcare Facilities Management Magazine and the American Hospital Association, Papa recently served as the Director of Facilities Management and Construction at Brandon Regional Hospital, a 436-bed hospital in Brandon, FL. His responsibilities included five free standing emergency departments and off-site offices, which total to 650,000 square feet.
The announcement comes after an extensive national search for the replacement for Geoff Marshall's position, who retired in June after he marked a 42-year career at UHC, which included the development and construction of the Bridgeport medical campus in 2010. Before joining Brandon Regional Hospital in 2020, Papa served in several senior and AVP facilities management roles at Cleveland Clinic Martin Health in Stuart, Florida; Maine Medical Center/Maine Health in Portland, Maine; Baptist Medical Center in Jacksonville, Florida; Bridgeport Hospital in Bridgeport, Connecticut; and Unity Health System in Rochester, New York.  
"I'm fortunate to have the opportunity to join this high-performing team and becoming a member of the WVU Medicine United Hospital Center family," said Papa.  "The confidence that has been shown to me, by entrusting me with the future expansion and growth of one of the largest and most progressive hospitals in the state, is truly humbling.  I am looking forward to getting started." Papa is a graduate of the University of Kings College in Toronto, Canada, in Facilities Management and the University of New York in Cobleskill, New York, in Institutional Management.  He and his wife, Tracy reside in Fairmont and look forward to exploring the scenic beauty of West Virginia and all that the state has to offer.