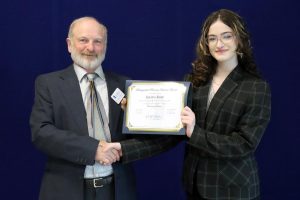 GLENVILLE, WV – The Glenville State University (GSU) Department of Business has recognized Haylen Book of Shinnston, West Virginia as one of two Outstanding Freshmen Students. An Accounting and Management double major, she is a member of Glenville State's chapter of FBLA Collegiate. After graduation she plans to obtain a master's degree and work in accounting. Book graduated from Lincoln High School in 2022.
She was recognized among other Distinguished Business Students for 2023. Recognition of these top business students at Glenville State University is based on multiple criteria including academic achievement, class rank, campus involvement, and leadership in department classes and programs.
For more information on this recognition or the GSU Department of Business, call (304) 462-4123.