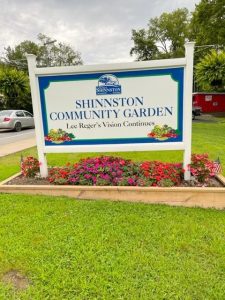 By Kathleen Panek
Garden time is here again. People all over Shinnston and surrounding areas have been cultivating their seedlings, going through seed catalogs, and getting their gardens ready for planting. They are "itching" to get started.
Some have already planted lettuces, radishes, onions – the early crops that do not mind cool weather and are early harvest before it is time to plant the tomatoes, peppers, beans and other crops we love so much.
The tower at City Hall is currently producing cherry tomatoes. This is our first experiment to see if the yield is worth the planting or should we stick to lettuces. That is still being evaluated.
The strawberry beds are showing strawberries forming. Little Eleanor painted some stones for us that are in the beds tin an attempt to fool the birds into leaving the strawberries alone this year. We also heard of a way to prolong freshness of harvested strawberries and are experimenting with that now with store strawberries. Of the 8 apple trees planted last year 7 have survived and are sprouting leaves, flowers, and new growth. In a few more years, there will be apples! The blackberries are doing well also.
The City of Shinnston has installed a hydrant (we have put a lock on it) so there is a water source – the Shinnston Volunteer Fire Department that was so good to us the last 2 years with filling water barrels for us can stand down.
Last week, the Southern family and their friend, Josh Shaw, got the center area of the Shinnston Community Garden "de-winterized" and Josh plowed it. Now we are ready to get the raised beds ready for planting. We will be pulling weeds and adding soil to them. We will also be ready for seeds and plants.
This week, Parker Osborn brought some plants to the Community Garden Team. The generosity of people of the area who donate plants is awesome – there could be no Community Garden without the seeds, plants, and volunteer help.
For those new to the area, The Shinnston Community Garden grows and harvests produce that is weighed, logged in, and delivered to the Lord's Pantry Food Bank to be distributed to the families in need in the Lincoln High School feeder area. In 2022, the Community Garden delivered 761 pounds and 11 ounces of produce to the Pantry. It is hoped to exceed that this year.
Thank you to all who participated in the past and we hope to see you again this year because, unfortunately, the need does not go away.