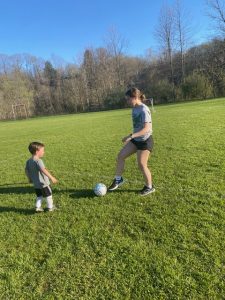 By Kara Linaburg
MaryJo Bastin, 29, is a special needs teacher who works at Johnson Elementary in Bridgeport, and has lived in Shinnston all her life. She said that she's worked with kids for many years now, and it was her time working with Harrison County Parks and Recreation that got her started in working with children when she was still in her teens.  
"It started in Shinnston when I was working with Harrison County Parks And Recreation at the playground, and I spent 12 summers working there, and I'm still very active with Harrison County Parks And Recreation. It's kinda how I got started." Bastin said that she also helped with the kids in her own family. "I have a big family and my cousins all had kids, so I'd take care of them."
Bastin said that her dad's influence as a teacher inspired her to choose her career. "My dad is a teacher, and I just saw all that he did and all the kids that he touched in his life. And I didn't really have any connection until I started the challenger basketball program, and then I was like, maybe I should do this for a living. And then I started the special needs program and got my masters in that."
She's been running the challenger basketball program for ten years now, volunteers with the challenger baseball, and is in charge of the Bocce association and their tournaments. 
Bastin is married to Joshua Bastin and they have two dogs they "love very dearly." She also spends as much of her free time as possible with her two nieces, enjoys running, and is involved with her church, St Anne's, where she lectures and helps with youth events.
"I knew her from elementary, middle and high school," Johnna Nestor, who is also a resident of Shinnston, said. "She has always been very active in community service." Nestor said Bastin is very "sweet" and has a big heart to help plan large scale events. "Also, she is not compensated for her time. I think that speaks volumes." 
 "I like that my family is all here,  if not in Shinnston, on the outskirts of Shinnston," Bastin said. "I like that I know most of the people here. I love walking downtown and seeing all the shops. My family has owned a business (DeMarco's Meat Market) for about 35 years in Shinnston, and I've always loved sitting there and watching all the people come in. And I've met a ton of people just from having that business downtown."
"I'm very dedicated to the town," Bastin said. "I wouldn't live anywhere else on this whole planet besides Shinnston."