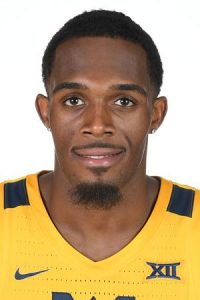 Jimmy Bell Jr. just finished up the hoops season at West Virginia University. Bell averaged 4.8 points and 5.2 rebounds in all 35 games for veteran mentor Bob Huggins. Bell had previously been a standout offensive lineman in high school and it turns out that he still has feelings for his previous love, the pigskin.
The 6 feet 10 inch, 285 pound senior had initial conversations with some football players that even further spurred his interest. WVU football coach Neal Brown and Huggins discussed Bell's future and his options and agreed to a treaty. It's not a rent-to-own situation for Brown, and Huggins leasing the big man to the football program; it's a trial run that will last through April.
There isn't a whole lot happening for hoopsters at this time of year except for conditioning and Bell is sure to get plenty of that this spring. Huggins has praised Bell's footwork and has mentioned before that he could have a future in the NFL. This is a mini-audition for Bell and it gives Brown an evaluation period and it gives Brown an evaluation period to determine if the Saginaw, Michigan native could help his squad.
If Brown is impressed with what he sees, then the ball will be in Bell's court. He would have to decide which route he will pursue. If he stays with the hardwood, he would have one year of eligibility remaining. If he chooses football, he will have two years to prove himself.
It does look like his football future has a higher upside and if his aspirations are to play professional sports, then the best move could come with a change in scenery. There isn't much time left for Bell to make his impact felt. The Gold-Blue Spring Game is this Saturday at 1 p.m. at Milan Puskar Stadium. Bell has the interest of both Huggins and Brown and which he chooses remains to be seen. Hopefully, the decision turns out to be what is in the best interest of this exceptional athlete.
Leading up to the Gold-Blue Spring Game have been a pair of officiated scrimmages. The latter took place this past Saturday in Milan Puskar Stadium. The idea is to emulate a live game experience to evaluate talent based on performance when it matters the most. Brown welcomes a full Big 12 officiating crew to Touchdown City. Brown is laser-focused this spring with the pressure to win at an all-time high for the Kentucky native. His 22-25 record at West Virginia has been a concern and he knows that he has to come out swinging this year. Brown's offense will have to set the tone and first he needs to decide on a starter at the quarterback spot.
Saturday he had junior Garrett Greene and redshirt freshman Nicco Marchiol alternating with the first team and second team. Greene did provide a spark for the Mountaineers last season, coming in and pitch hitting at various times. He is a run first signal caller who isn't afraid to take a hit.
Marchiol has been waiting patiently for his opportunity. He has all of the tools needed and if he lives up to his hype, then look out, there could be a new sheriff in town.
If there isn't a clean cut winner in the quarterback battle for Brown, then a dual threat could be utilized. If it takes both of them playing to get the job done, Brown will use them both. Winning early is the top priority in Morgantown in 2023.
That will do it for now. Until next week… take care and God Bless!