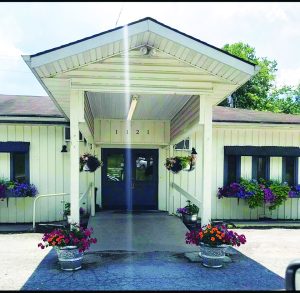 By Maralisa Marra
Jimmy's Diner has been a Shinnston community staple for over 36 years. Owner Jimmy Salerno has dedicated the greater portion of his life to the success of the family business.
"I thank my family," Salerno said, "They step up to the plate—my sisters Marie and Pam, my nieces and nephews."
Jimmy's has deep Italian roots beginning with his grandparents who were originally from Italy. Salerno said that in 1980 his Aunt Rosie built the building in which the restaurant resides, hence the name of the delectable Rosie sandwich.
"My Aunt Rosie had the Dewdrop Inn," Salerno said. "That was in the 60s to 70s until she moved over to Shinnston. That's where the sandwich became famous at." The Dewdrop Inn was in Pine Bluff, but the love for the sandwich quickly grew in Shinnston.
The Rosie sandwich consists of Salerno's grandmother's homemade Italian sausage with peppers and cheese; lettuce, tomatoes, and mayonnaise; or all of those ingredients on a seven and a half inch or five-inch bun, according to Salerno.
Along with the Rosie, spaghetti is also a local favorite. "We have our own homemade meatballs. Everything is homemade," Salerno said.
Jimmy's has sponsored various Jerry West Basketball teams, and over the years, they have fed Lincoln High's football team on various occasions. Salerno still makes a point to do so at least once a year.
"We try to donate as much as we can to the schools and the businesses," Salerno said.
Salerno also shared one of the diner's goals for the near future. "We want to have a dinner one night, and bring all the people that have businesses that have supported us and helped us out," he said, "We want to invite all of them and have a thank you dinner."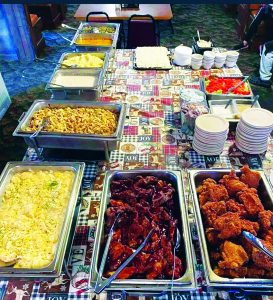 Jimmy's Sunday buffet always has two homemade meats, two potatoes, two vegetables, cake, and salad for $13.99. "It [the buffet] is getting bigger every Sunday," Salerno said.
However, Salerno said the diner does not have the business to do specials anymore. "But if the business comes back, I'll start it [again]," he said.
Salerno said the business lost due to the COVID-19 pandemic has yet to return, but they are persisting to rebuild their clientele.
Jimmy's Diner is open Wednesday through Saturday from 4 to 8 p.m., and on Sundays they are open from 11 a.m. to 3 p.m. Salerno also said, "Mondays and Tuesdays we're closed, but if I found help, I would open."
Jimmy's also offers catering to all events in or out of the diner. Salerno said that the restaurant can be reserved and they can cater to a large party, or the party can reserve the space and bring in their own food, as well.
He also said that if he could find some extra help to hire that the diner could start opening at noon. They are looking for a cook and a dishwasher.
Stop by Jimmy's at 1121 Hood Ave. for one of the famous Rosie sandwiches or inquire about joining their team!