By Bill Nestor
Sports Editor
The 89th West Virginia open was recently played at Stonewall Resort. An epic battle took place before Christian Brand would eventually outlast David Bradshaw to claim his third open championship.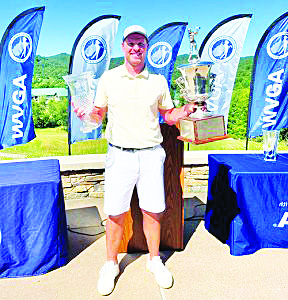 It was a come from behind victory for Brand who trailed Charles Town's Mason Kidwell by a pair of strokes after the first round. Kidwell shot a sizzling -5 and was joined by only seven other golfers to shoot under par on day one.
The second day of play was moving day and cut day all rolled into one which made these 18 holes crucial. Brand and Bradshaw went north. Unfortunately for Kidwell, he went south. Kidwell shot five over to get back to even par for the tournament.
Brand and Bradshaw were the only players to go low on the high end of the leader board. Both were -3 on day two and stood at -6 tied at the top, three shots clear of Thadd Obecny II from Wheeling.
Area notables that made the cut were Bridgeport's Michael Gervais, Brian Bailey, and Marco Oliverio; Fairmont's Jess Ferrell and Clark Craig; Morgantown's Corey Dillinger, Sam Berry, Kurtis Grant, Josh Arbaugh, Jack Lindgren, and Aaron Gizzi; Weston's Matt Gissy; and Grafton's Adam Ware.
Brand had to come from behind a second time in the in the tourney ladder during final round play. Bradshaw birdied #3 which triggered a furious run from Brand. The Scott Depot native made three straight birdies just before the turn. Brand extended his lead to five strokes after 12 holes. Bradshaw bounced back capitalizing on Brand's double bogey on #13 with a birdie to make it a three-stroke swing. Brand recovered and birdied the next two holes to finish -10, three strokes better than Bradshaw.
Bradshaw was the reigning champion heading into this year's event and has won 12 championships in total. Brand's previous wins came in 2014 and 2015.
Other notables that finished in the top 40 were Dillinger (T-30), Gervais (T-30), Ferrell (T-32), and Berry (T-41).
The big winner was the staff at Stonewall Resort. The leadership and work ethic displayed was remarkable. The smoothness in which everything was ran alongside the exceptional condition of the course made this year's edition top shelf.
…
Former West Virginia University Head Men's Basketball Coach John Beilein has been tabbed to join the National Collegiate Basketball Hall of Fame. Beilein is in good company with other fellow coaches in this year's class: Lon Kruger, Jerry Krause, Jim Calhoun, and Roy Williams.
Beilein came to Morgantown at the perfect time to save the program. Gale Catlett resigned abruptly after the 2002 season when allegations put heat under his backside concerning payments made and owed to star player Jonathan Hargett. Enter Dan Dakich as the new head man, exit Dan Dakich eight days later.
In dire need of stability, A.D. Ed Pastilong hired Beilein. In his fifth year at the helm of the Mountaineer program, Beilein recorded his best record in Morgantown. The 'Eers were 27-9 and won the NIT Championship. The next year, Beilein bolted for Michigan and guided the Wolverines to a pair of National Championship games.
His departure from Touchdown City was all but forgotten when Bob Huggins slid into his place. Beilein has long been known as a coach of character, and his approval rating was and still is higher than most.
That will do it for now. Until next week…take care and God Bless!