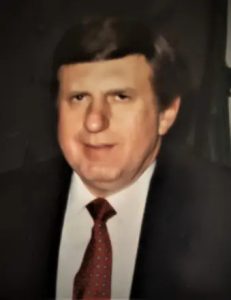 John D. DeMary
John D. DeMary, 89, of Shinnston passed away on Sunday, July 23, 2023, at his residence surrounded by his loving family.  He was born June 15, 1934 in Enterprise, a son of the late Salvador and Jo Ann Mundich DeMary.  On January 12, 1963, he married Kathryn Ann Beto DeMary and they had two sons, John M. DeMary, Clarksburg, and his children, Ryan, Fairmont, Alex and Anthony, Clarksburg, and Kathryn, Shinnston and his son Mark DeMary and wife Lori and their children, Grace and Sophia DeMary, all of Fairmont; his brother-in-law, Anthony David Tartell, Fairmont; his nieces and nephews, Michael Beto, Morgantown, Michelle Beto, Bridgeport, John and Sheena Beto, Mt. Clare, Jodi Paugh, Clarksburg, Anne and John Aunins, Newton, MA, and Jim Hammons, Cambridge, MA.
He was preceded in death by his sisters, Delores Bernadette Tartell, Fairmont, and Norma Jean Hammons and her husband, James Harvey Hammons, Needham, MA.
John graduated from Shinnston High School in 1952 and Duquesne University in 1956. He served in the United States Army from 1957 to 1959.  As a pharmacy graduate, he applied for a direct commission and was sent to Brook Army Medical Center at San Antonio, TX for 10 weeks before being attached to a field hospital in Fort Hood, TX.  As company commander at the 100-bed hospital, his unit was trained and prepared to handle emergency situations if there was need overseas.  He was later named the Director of Pharmacy at Fort Hood Army Hospital, where he remained for 2 ½ years and occasionally ate lunch with Elvis Presley.  
As a veteran, John D. DeMary was able to relate to the veterans he served, and he always made a sincere effort to "go the extra mile" to treat everyone he interacted with the respect and compassion they earned and deserved.
John's professional career spanned over 60 years. He was previously employed at Ohio Valley General Hospital, Wheeling in 1957; Wells-Haymaker Drug Store in Clarksburg in 1959 to 1967; owned Lumberport Pharmacy from 1967-1973; owned DeMary Pharmacy; in Shinnston from 1968 to 1991; owned DeMary Sixth Street Pharmacy (partnership with sons) from 1988 to 1991; Staff Pharmacist at the Louis A. Johnson VA Medical Center from 1993 to 2013; Pharmacy Consultant for St. Barbara's Memorial Nursing Home through 2024.
John was a member of the St. Ann's Catholic Church and served as President of Parish Council; Former President of St. Barbara's Memorial Nursing Home; Former member of the Kiwanis Club; Former President of Central WV Transit Authority (CENTRA); WV Pharmacists Association Board of Directors; former President of Shinnston Area Development Association (SADA); Board of Directors Shinnston-Lincoln Scholarship Foundation.
In addition to his lifelong dedication to community service,  John's passion was his family, he loved to travel, and he was an avid Notre Dame Football fan.
The family would like a special thanks to Dr. Lance Dubburke and the Staff of Shinnston Health Care, Dr. George Shehl and the Staff of the Louis A. Johnson VA Medical Center, Dr. Richard Vasicek and the Staff of WV Medicine Hospice, and his personal caregivers- Amanda Underwood and Amber Price.
Friends will be received at the Harmer Funeral Home in Shinnston from 2-8 PM, Wednesday. Holy Rosary will be recited at 7:30 PM Wednesday.  A Mass of Christian Burial will be at St. Ann's Catholic Church in Shinnston at 11:00 AM, Thursday, July 27, 2023, with Father Akila Rodrigo T.O.R. and Father Deepu Joseph as Celebrant, and assisted by Deacon David Lester. Interment will follow at Shinnston Memorial Cemetery.
Online memories and condolences may be shared at Harmerfuneralhome.com.
A service of Harmer Funeral Home, Shinnston.