By Maralisa Marra 
2022 Senior Homecoming Court Princess Keri Yanero was announced as Lincoln's 2022 Homecoming Queen during the halftime coronation at the homecoming game Friday against Lewis County. 
Unlike the Grand Marshal title, which is voted upon and announced before the queen, Lincoln votes on Homecoming Queen after all senior court princesses have been selected, and they wait to reveal the queen at the homecoming game each year. 
However, like the Grand Marshal, all grade levels vote upon Homecoming Queen, so the title is a reflection of both lower and upper classmen votes.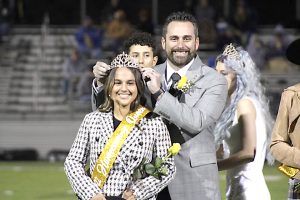 "It means a lot that my school thought of me to have them represent me as their homecoming queen," Yanero said. 
Yanero's involvement both within and outside of the halls of Lincoln is reflective of her title as queen. She is a member of the cheerleading squad, tennis team, Student Council Executive Committee, and Key Club, all in which she portrays leadership, achievement, and character.
For the 2021 tennis season, Yanero was deemed as Lincoln High's Female Tennis Player of the Year, and in previous years, she has served as a class officer.
This year, Yanero also took first place in the Big 10 tennis tournament for first seed girls doubles. 
After high school, Yanero plans to attend the University of Alabama where she hopes to study radiology and try out for their cheerleading team. 
She said, "Alabama has been my dream since I was seven years old." 
From senior princess to queen, Yanero plans to take her leadership skills to the next level at Alabama and excel just like she has in high school.