By Maralisa Marra
The Shinnston News & Harrison County Journal has named Kim Southern as Citizen of the Month, a recognition sponsored by Dorsey Funeral Home in Shinnston – locally owned and operated.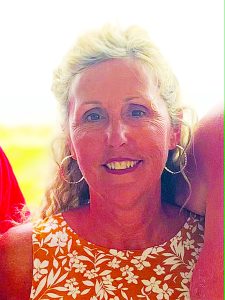 Kim Southern has devoted herself to serving her community through many different outlets, including through volunteerism and working with young people.
Southern's stout work ethic and determination flows through Shinnston, and not only is she devoted to making Shinnston a better place, but as a wife and mother, she has passed these values along to her family, as well.
For over 30 years, Southern has owned and operated the local Shinnston Subway alongside regularly lending a hand to the community and the schools.
"I've given a lot of kids their first job," Southern said, "I believe in giving everybody a chance, and I do hire young kids that have done really well there [Subway] that went on to college and make something of themselves."
While giving teens a chance to excel, Southern has given back to her community in a number of ways. "We give to the schools, churches, and organizations in our area," she said. 
Southern and her husband Mark Southern have sponsored basketball tournaments at Lincoln High School, donated food for the Lincoln High students responsible for Angel Luv gift wrapping, as well as the new sign for the Shinnston Community Garden and three of the raised garden beds.
Southern said she became involved with the community garden at the beginning of this past fall. "Since then, we have got a full garden down there. We've gotten beds. We donate everything that comes out of that garden to The Lord's Pantry," Southern said. 
She also said that all of the plants and seeds were donated by various people and businesses throughout the city.
Southern said that the Boy Scouts and some of the National Honor Society students at Lincoln High volunteer in the garden alongside herself and others such as Kathleen Panek, Bethany Nuzum, and Phyllis Reger. Southern's passion for helping the community and making it a better place is contagious for all generations.
Southern's daughter, Ashley Wolfe, and granddaughters, Kinleigh Wolfe and Aralyn Southern, also lend a hand in the garden with her from time to time.
Southern and her husband are interested in Shinnston's growth. They developed Riverdale Estates to bring more residential space to the city. 
They are also interested in business growth in Shinnston, "We bought the old State Police property in hopes to bring more business to our community," Southern said. The property is for commercial sale.
Not only do Southern and her husband help the community through their businesses, but they passed the same desire on to their son Adam, who owns the local Ace Hardware.
Southern said as a family, Ace Hardware donated the lumber for the stage at the Green Space.
"We're just a family who tries to better our community," Southern said.
Southern's daughter Ashley Wolfe reflected on her mother's hard work. 
"Growing up, I remember my mom working open to close at times at Subway. She has always been a hard worker and gives 100%, and she has always put our family first and has always been there no matter what…She has not only run her own business, but she dedicates her free time to do volunteer work to make Shinnston the best it can be."