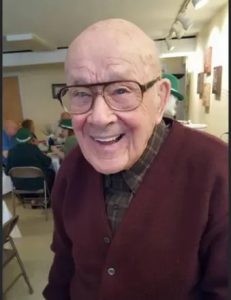 Lee Marshall Martin
Lee Marshall Martin, 101, of Hepzibah passed away November 10, 2023 at the WV Veterans Nursing Facility, Clarksburg.  He was born March 6, 1922 at Lamberts Run, a son of the late Earl Alonzo Martin and Beyarl Shreve Martin.  On January 17, 1941, Lee married his high school sweetheart, Miriam Hess Martin, who passed away on January 10, 2000.            
Lee graduated from Lumberport High School in 1941 and moved to Pittsburgh for work until WW II broke out.  He moved back home and enlisted in the U.S. Army, engineers battalion.  After he served, he worked for a contractor who built the Lewis A. Johnson V A Hospital.  He later went to work at the facility in the engineering Department until his retirement in 1981.  Lee was a member of Hepzibah Baptist Church.  He loved his church and spent countless hours there working on and around it.  He sang in the choir and was an active member and trustee until his health wouldn't allow him to attend.
He is survived by his sons, Lee Fredric Martin and his wife, Shelia Quickle Martin of Hepzibah and James Hess Martin and his wife Sharon Garrett Martin of Clarksburg; grandchildren, Amy Martin Black and husband Greg of Hurricane, Chad Martin of Carrollton, TX.  Jason Isaac Martin, Morgantown, Matthew John Bock and his wife Amy, Clarksburg, David Lee Martin, deceased and son Ian, Daniel Mark Bock, Clarksburg, great-grandchildren, Madison Black of Charleston, SC, Haley Black, Morgantown, Bradley Jakob, Eden, and Rhys.
Friends will be received at the Harmer Funeral Home, 300 Pike St. Shinnston from 4-8 pm Tuesday and at the Hepzibah Baptist Church from 10-11 am Wednesday, November 15, 2023, with a funeral at 11:00 am with Pastor Chris Shingleton and Pastor Todd Jarmin officiating.  Interment will be at the Hepzibah Baptist Church Cemetery.  The family would like to extend a special thank you to the staff of the WV Veterans Nursing Facility.  Online memories and condolences may be made to harmerfuneralhome.com.
A service of Harmer Funeral Home.