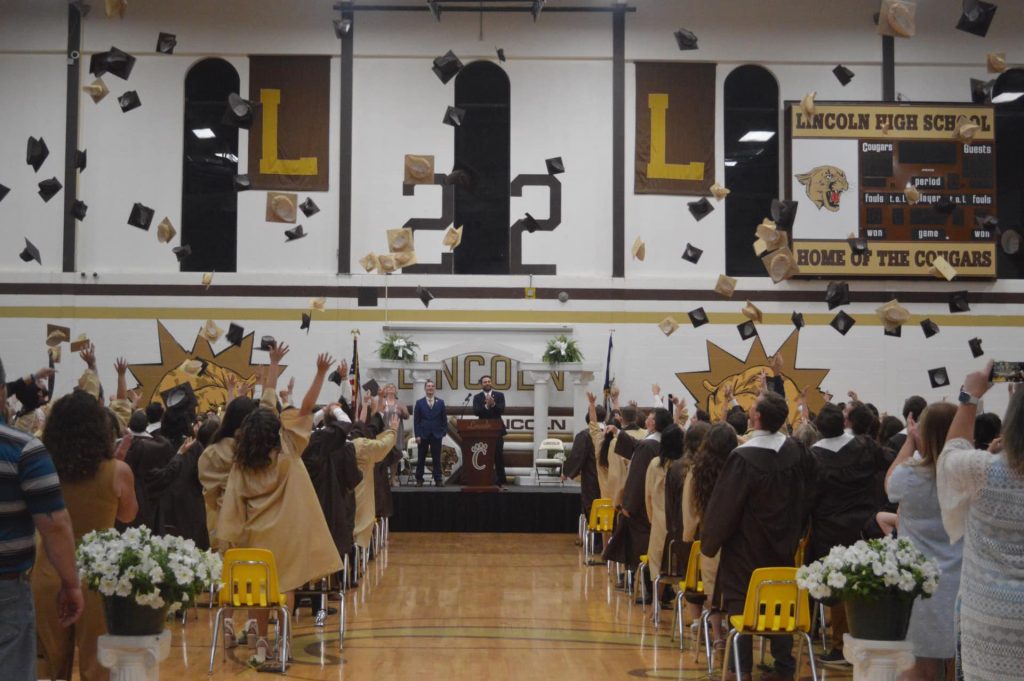 By Maralisa Marra 
On May 27 at 7:30 p.m. in Lincoln High School's gymnasium, the senior class of 2022 crossed the stage, turned their tassels, and closed their last chapter at Lincoln High School.
As Lincoln High's traditional graduation ceremonies always begin, the graduates processed into the gym to the classic "Pomp and Circumstance" march performed by the Lincoln High Graduation Band. Once the processional concluded, 2022 graduate Olivia Spino performed "The Star-Spangled Banner."
Senior Class President Mathew Kerns welcomed the attendees and graduates with an invocation, reflections on his term as president, and inspirational words.
"Each and every one of you has potential that is unfathomable," he said.
Students who graduated summa cum laude were featured speakers. Miss Cougar Savannah Jones, who began the summa cum laude addresses, encouraged her classmates to strive for greatness, work hard, and most importantly, persevere.  
"From everyday obstacles to the global pandemic that rocked the world, our high school experience has been like none other…if I gained anything from my four years at Lincoln High School, it would be perseverance in the face of adversity, and I hope that you all can say the same," Jones said.
"I hope that you all will go beyond what is asked of you and strive for the greatness that you may not have achieved just yet, or maybe you will take the success you have seen in high school and take it to the next level," she said. "This world teaches us to do just enough to get by and I pray that none of you listen to that ridiculous advice."
 "We must keep persevering, we must keep chasing our goals, and we must absolutely never settle." 
Following Miss Cougar, Student Body President Brooklyn Fazzini continued the summa cum laude addresses with her reflections on her time as student body president. Fazzini beamed as she expressed confidence in her fellow classmates.
"Through every twist, turn, hill, and valley, we will leave our mark on the world and the people we meet along the way," she said.
She reassured them that "it doesn't matter who you are, it doesn't matter where you come from, it doesn't matter if you plan to attend college or go directly into work, all of us are going to do amazing things." 
She also dared the class of 2022 to follow their dreams, "You want that job?" she said. "Go get it. You want that life? I beg you to go get it. You want a change? Make it happen. But in all of those things, be strong and courageous in all that you do and all that you wish to accomplish and within your whole life."
 "I love you all and I cannot wait to see what amazing things all of us accomplish," she said through tears.
The ceremony progressed with addresses from nine other summa cum laude scholars: Sydney Brooks, Benjamin Nichols, Skylee McCarthy, Santino Loretta, Franko Kovar, Ashley Hardman, Kylee Shaw, Trace Lane, and Victoria Andrick.
Brooks encouraged her classmates to continue to open doors, and Nichols said, "I challenge you to make memories, achieve your dreams, love with all of your heart, and always be true to yourself." McCarthy encouraged them to "stimulate change" and Loretta spoke about the importance of how "college prep and trade school can go hand and hand." As for Kovar, he reflected on the success of the 2022 class, Hardman expressed her appreciation for the relationships she created in the LHS Band, and Shaw expressed excitement for the graduates' futures. Lane offered congratulations and hopes for prosperous futures. Andrick concluded the summa cum laude addresses with great Cougar pride and reflections on memorable moments of the graduating class.
Lincoln alumnus and Principal David Decker said the class of 2022 was an "outstanding representation" of Lincoln High. 
Afterward, the introduction of the graduates and distribution of diplomas took place. A very special graduate, who is held close to the Shinnston community's heart and an example of courage and perseverance, was recognized before the commencement of the distribution of diplomas: Logan Elder. Logan could not be in attendance of the ceremony because he is still recovering from his double organ transplant, so his father and sisters came to accept his diploma. Assistant Principal Holly Hawkins remarked, "Logan, we thank you for your smiles and positivity every day you walked our halls. Your example of courage and perseverance has been a lesson for us all. Always remember, once a Cougar, always a Cougar." 
The Cougar Wesley Benson gave closing remarks. Benson reflected on the challenges and triumphs of the class of 2022, and he said with utmost confidence, "At the end of the day, we're not just classmates, we're not just friends, we're family, and you can't break up with your family no matter how hard you try. We'll bleed brown and gold until the day we die." 
Benson expressed pride in being a Cougar and a graduate of the class of 2022, and he thanked his classmates for allowing him to represent them. He concluded his address with these remarks: "I'm truly honored to be your Cougar, and I'm so glad we had this time together. Stay golden." 
As tradition, the ceremony was concluded with the playing of the school's alma mater lead by the Lincoln High Graduation Band. The graduates locked arms and swayed to this memorable melody one last time.
Both The Cougar and Miss Cougar seek to create change in the world around them through the spoken and written word. Benson, The Cougar, seeks a communication degree from Fairmont State University while Jones, Miss Cougar, seeks a degree in journalism from West Virginia University. 
 "It was an honor to be The Cougar," Benson said. "Knowing that my classmates and teachers and everyone here at the school thought so highly of me for me to be the one…it meant the world to me." 
"I'm going into journalism because I want to create a positive change in the media…to have a more truthful outlook," Jones said. 
While both said graduating was bittersweet, Jones added, "I'm excited. I think that all good things come to an end, and I'm just happy to see what happens in the future."