By Maralisa Marra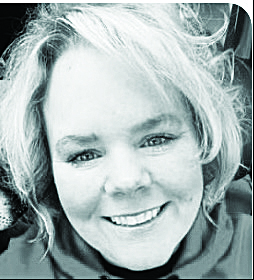 Ward 4 candidate Julia Currey wants to represent west Shinnston in the June 7 City Council election. Currey is a Shinnston native and Lincoln High alumna who has traveled the world and lived abroad on and off for the last 15 years, but she is ready to give back to her roots with her worldly skillset. Currey has worn many hats over the years, one being the director of teaching English for a multinational company for foreign students to study in West Virginia. She also sends doctors and nurses from India to work all over the United States. 
Currey said combining her problem-solving background alongside her experience of different cultures and viewpoints to overcome problems is her strength. "I just want things to be better for the residents of Shinnston…I feel like if we could somehow figure out how to come together as a group instead of political parties that would also be beneficial," Currey said. 
Currey said she would like to see something developed on the West Side of the city for children to do without having to travel through town, and she would be interested in fundraising money for a recreational facility on the West Side. She said she is aware that there is a lack of developmental property on the west side, but said she is determined to figure out how to provide recreation for the children of west Shinnston.
Currey expressed concern for the loss of revenue if the city offers new tax incentives. The city already offers some incentives, and several businesses have recently opened.
She said that new tax incentives do sound nice, but she does not know if it is possible because "we have to have the revenue" that the tax dollars provide for the city. However, Currey said that she hopes that tax incentives for new businesses can happen if the city can financially do so.
In reference to annexation, Currey said, "Eventually, it's going to happen. It's going to need to happen because we have to fund the city." Currey believes that annexation will create revenue, and with the revenue created through annexing surrounding areas, she thinks it will help fund the much-needed updates to the water and sewer plants. "We're eventually going to have to annex things to bring people into the city to create revenue, so we can develop as a city. You can't just keep plugging along with the same couple hundred people that pay their taxes and do what they're supposed to do," Currey said. 
Currey said that in order to handle dilapidated buildings on private property buildings appropriately, there is a process for it and it "usually involves the court system" to force the landowner to handle the situation. Currey believes that these legal actions need to happen because dilapidated buildings usually attract crime and drug use, and she wants to prevent that as much as possible. 
Several other candidates have said they'd prefer to contact the property-owners and push them to take responsibility for their abandoned properties, but doing so has been unsuccessful in the past, city officials have said.
Currey also believes that the private owner of the Murphy building should be held accountable through legal action because if the building is unsound that it is a danger to the city, then the owner needs to either demolish it if it cannot be saved or restore it if possible. However, if the building is structurally sound, then Currey believes that the city can acquire it through grants and fundraising and then restore it to benefit the city. "As long as it's structurally sound, then of course, we could do renovations. But if it's not structurally sound, and it needs to come down, then whoever owns the building needs to handle that issue for the city for the sake of the people who walk beside it every day," Currey said.  
In terms of the water and sewer plant upgrades, Currey supports them completely because the city "can't keep kicking that ball down the road." She said she is aware that the city's water intake is at capacity, and it is a must to update the systems. She said, "I don't know that there's a way out," when asked about her thoughts on possible rate increases to the citizens due to updates. "I feel like that increase is for the better," said Currey. She also noted that the upgrades will ensure the citizens have safe drinking water and a properly working sewage system.
Asked about road and street paving, Currey said, "Rome wasn't built in a day," and she thinks that the city is on the right track to remedying the street issues.