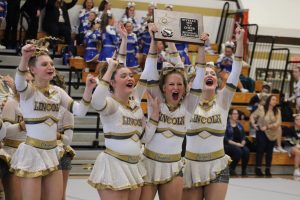 By Stephen Smoot
As Lincoln High School's football team earned their way into the state playoffs, another hard working athletic squad qualified last week as well.
Mandi Brown, head coach for the past nine years, said "I have a young group," but added "they're so motivated."
The cheer squad learned that motivation going way back. Most of the team started in youth cheerleading. Brown says that they cannot learn the same routines because of restrictions and what different age groups can do. They do, however, master the proper techniques early on. Brown stated "if you learn the techniques, it just keeps coming up" as they continue to learn and gain experience. 'Teach them the same way you'd want them at the high school."
Brown and her sister started as youth coaches 19 years ago. Brown coached for 10 years before taking over at the high school. In fact, this year's graduating class has the last cheerleaders whom she also coached as youth. Lincoln High School's squad benefits from the close coordination between youth, middle, and high school squads.
The middle and high schools also often practice together. As Brown explains, "you practice together. You build a program together."
Cheerleaders at all levels also support each other at competitions. "It's really nice," Brown shared. "We preach that. We tell them there's always someone in the stands looking up at you."
Brown added that the entire Shinnston community has served as a strong source of support over the years.
Last year, Lincoln took the state championship. This year, despite returning an 11 participant squad with five freshmen, the Cougars once again won their region and qualified for states. Brown said "the younger ones, this is a new environment for them.' The team has one senior and the remainder are juniors.
The squad went to regionals last week and won, with the top two earning a berth at states next month.. Shortly thereafter, they competed for the Big Ten Conference title. Conference competition, unlike sectionals or regionals, lumps single, double, and triple A schools. Triple A Bridgeport won, with Lincoln as runner up. 
In either contest, certified judges rate the squad's performances. Sometimes, competition can get very tight. At the conference level, only .3 of a point separated first and second place. "It took them an hour to tabulate the score," Brown noted.
Lincoln's cheerleading squad will next compete at the state tournament at Marshall University in Huntington. "We'd love for everyone to make the trip," Brown said. It will be Dec 9 at 10 AM.
"They're great students, great role models, just great human beings," she said.