The day started out chilly, raw, and gray. Clouds hung low in the sky. Fog clung to the hilltops. Temperatures hovered at just under 40 degrees, quite chilly for early November.
But the town of Shinnston came out anyway to honor the courage, sacrifice, and duty of American military veterans on the holiday set aside for their remembrance. As early as 45 minutes before the parade, veterans, families, and children started to file down the flag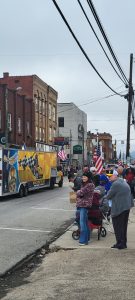 lined streets, looking for the best opportunity to find a place where they 
could see.
At 11 AM sharp on the eleventh day of the eleventh month, exactly 105 years after the signing of the armistice ending the war with the German Empire, the fire alarm sounded and the parade commenced.
Harrison County Sheriff's deputies helped to open the parade, followed by 
Shinnston Mayor Rodney Strait, tossing candy to the waiting hands of children.
As one could hear the Lincoln High School band playing a rousing version of "God Bless America," written by Irving Berlin and made famous by Kate Smith, the Navy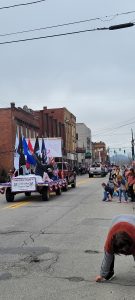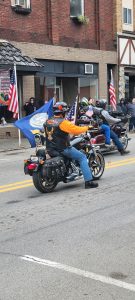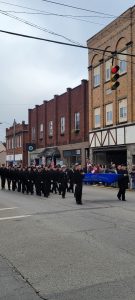 Junior ROTC cadets marched past in perfect military order.
Those watching the parade saw classic cars from a military Jeep to a Model T. Not to be outdone, the Shriners scooted past in yellow go-karts. Units from the Shinnston and Salem fire departments joined the pageantry as well. 
The "Vibin W/Liv" truck featured a live performance of Lee Greenwood's "God Bless the USA" direct from its bed. 
Appreciation and gratitude shown to Shinnston's veterans did not end with the parade. Immediately thereafter, the American Legion Post 31 hosted a packed house to enjoy a community lunch.
The Lions Club and Legion Ladies' Auxiliary served a full and delicious meal of hot dogs with chili, cole slaw, and/or sauerkraut, macaroni and cheese, several styles of salad, homemade baked beans, and a wide variety of pies, cakes, and other desserts.
They also decked out the Legion Hall with flags, red, white, and blue tinsel, ribbons, and other decorations. Each attendee received a traditional red poppy with the words "In Memorium" printed on it.
As veterans and their supporters filed in, the sounds of reminiscences, friends reunited, and family filled the Hall, the sound of a community coming together to remember and celebrate.
Before the program and food, "Buckwheat and the Minors" sand traditional bluegrass and gospel tunes, including "Foggy Mountain Breakdown" and "In the Sweet By and By."
The program opened with Maryanne Ferris, vice mayor of Shinnston, telling "why we celebrate this day on this day." She explained that, although World War I technically ended with the signing of the Treaty of Versailles in June 1919, hostility actually ceased the previous November. It was on this day that President Woodrow Wilson and Congress decided to first celebrate the armistice, then later, the sacrifice and contributions of all veterans.
"That's why our parade always starts at 11 AM," Ferris explained.
Matthew Keith, chaplain of the American Legion post and pastor of Shinnston Baptist Church, shared a few words before giving the invocation. He said "on behalf of the Legion and the Lions Club, we thank you for coming out to support our veterans."
Keith pointed out that "West Virginia, per capita, has always been the first state." Throughout history, even before its creation, the Mountain State provided more troops to America's wars and also always bore the greatest sacrifice.
During his prayer, he said "we are ever mindful of the cost paid for our liberty" by the service of American veterans.
After Marcia (Marsha?) Duckworth, president of the Ladies' Auxiliary, dismissed tables to go up to the buffet, the crowd heard from each of the marshals selected for the parade.
Robin Shingleton, followed by her husband Clifford, spoke first. Both served in the United States Air Force. Ms. Shingleton spoke of her family's worry when she made the decision to enlist, then the toll taken by the rigors of basic training. She remembered "halfway through training" she was called down to the main office "where no one ever returns from." Her worries remained brief as they sent her to another area.
There she saw family friends from Cass who had also served in the Air Force. "I hugged them like I'd been lost in the woods for years and just found civilization again."
Ms. Shingleton said "I want to thank God for putting me on the right path" that led to her husband and family.
Mr. Shingleton talked about how "life gets real complicated" sometimes in the service. The native West Virginian from a town "with one stoplight" found himself assigned to Nellis Air Force Base near Las Vegas.
He called his mentor as he stared at the city, saying "I don't know if I can do this. From horizon to horizon is lights."
With his mentor's help, he soon settled in. Mr. Shingleton said "life was easy for a while. I took care of sick people. I loved every minute of it."
Soonafter, he married his wife and had children. "My kids got close to school age," he remembered "I wanted my kids to be raised somewhere decent," which led him to a new assignment in Texas.
Mr. Shingleton left the group with some parting thoughts, asking "how are you serving your country, your state, your fellow veterans? If you can't answer that question, fix it. Be the one to do something," especially when it comes to helping fellow veterans who have fallen on hard times.
Jeff Dytzel spoke next. He introduced his wife, children, parents, and aunt before sharing his viewpoints from 15 months of combat in Iraq. Dytzel volunteered for machine gun duty because no one else did. He explained that "in life you remember your firsts. In combat, you get a lot of firsts."
He remembered also that in Iraq, his name was emblazoned across his chest in Arabic. Children would chant "Dytzel! Dytzel!" as he passed them in the streets.
Dytzel praised the veterans who came before, saying "if they didn't go first, you can't go next" and shared his pride in picking "up the flag to carry it further."
"What I like to do" Dytzel stated "when I see that old vet with a hat on, I go out of my way to thank them" and listen. He added "the greatest service can be having an ear."
He concluded with "we're not ashamed of our flag" or the service that veterans rendered to protect freedom. "We're not ashamed of what that flag stands for."
Dytzel then said "there's a lot more to the story, but there's a lot of detail you need to leave out."
For the story that gets told, but even more so for the details that get left out, Veterans' Day remains one of the nation's most sacred of holidays – as the city of Shinnston demonstrated last Saturday.