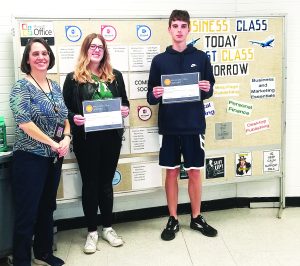 By Erin Beck
Editor
The Shinnston News & Harrison County Journal has named Julie Yearego as Citizen of the Month, a recognition sponsored by Dorsey Funeral Home in Shinnston – locally owned and operated.
Julie Yearego, a Lincoln High School teacher, left more lucrative work in the financial services industry to help set kids up for successful careers of their own.
Yearego, a fifth-year teacher at Lincoln High School, has been teaching for nine years. Prior to that, she spent 17 years in the financial services industry, including time as a stockbroker, loan officer, and personal banker.
She pursued teaching, in part, because the schedule is more conducive to raising a family, but also because she saw a need. Students were entering adulthood and the workforce without the skills required.
"I was working in the banking industry," she said. "Students from Wesleyan were coming in, and they were majoring in economics and finance, and they couldn't balance a checkbook."
She started by offering personal finance workshops for adults, then earned her master's degree in teaching at Fairmont State. 
Now, she teaches personal finance, computer applications, marketing principles, digital imaging, and business marketing. Her courses fall under the career and technical education umbrella, meaning courses specifically focused on getting kids college and career ready. 
As past president of the West Virginia Business Education Association, she was responsible for training business teachers across the street, and she still assists that group with organizing. Among an ongoing teacher shortage, it's becoming even more difficult to fill similar positions, she said. 
But she enjoys her profession as she knows kids will benefit from the skills she teaches, regardless of what profession they pursue.
She was 39 when she started teaching, a little older for a new teacher, she noted. She also had to take a pay cut.
But she also frequently receives Facebook messages and emails from former students who want to express their appreciation. Some have started their own businesses. 
"I never discourage people from going into education," she said, noting that the pay can be a discouragement, however. "It's not as competitive as some industries. But as far as family life, it gives you a lot of flexibility raising your children. And I know I'm making a difference."
In personal finance class, students learn about mortgages and the differences between buying and renting. In business computer applications, they get certified in computer programs like PowerPoint and Microsoft Word. Every student who goes on to outside-the-home work can benefit from her resume-building help.
She said she would have been much better prepared for the workplace had she taken classes like accounting earlier.
"You lower that learning curve quite a bit by taking that in high school," she said. "You are giving them real-world scenarios and really trying to prepare them for their eventual careers."
She is also the advisor of the DECA club, which prepares students to be leaders and entrepreneurs, at Lincoln High School.
Another teacher, Jaclyn Loss, who teaches business, heads up the Future Business Leaders of America Club; they run the two groups as one club.
Students in the club participate in competitions and leadership workshops. Nineteen of her students were recently able to participate in DECA's Career Development Conference in Charleston. The conference included motivational speakers, as well as competitions related to marketing, business management and administration, finance, and hospitality. Seventeen local kids placed, she said. Five will go on to Atlanta for the International Career Development Conference.
While she is a Bridgeport resident, Yearego spends much of her time in Shinnston assisting DECA-FBLA students with a multitude of service activities. Yearego has been publicizing that work more often more recently.
"I try to brag on the students," she said.
Her students planned to volunteer with Adopt-a-Highway soon, she said. They also recently delivered food for the Lord's Pantry.
"If anyone in the Shinnston area has community service opportunities for students, we would be happy to learn of them," she said. "It's really important for them to do that. It gives them some great experience to learn more about their community and help out. It's also good networking."
She asked those interested to contact her before the end of the school year, although some service activities could be planned during the summer.