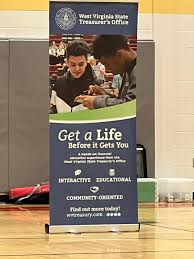 By Stephen Smoot
Two years ago, George Washington University's Global Financial Literacy Center and the TIAA Institute published a study breaking down personal finance knowledge by generation. Generation Z, as some call it, answered 43 percent, but no generation scored above 55.
West Virginia State Treasurer's Office and Harrison County Schools aim to change that going forward. 
Dr. Geraldine Beckett, County Liaison for Career and Technical Education Programs, has worked to bring a personal finance simulation known as "Get a Life" to area middle schools.
South Harrison has already completed the short course with Washington Irving 8th graders participating on Nov 9. Lincoln Middle School will host in January.
The course will last three hours and take place in the gymnasium. Beckett shared that "the Chamber of Commerce is providing about 20 business workers for each entry at the middle schools."
Students will get to experience the reality of personal finance. As Beckett describes "students will be assigned a job with an income and a life situation." This could include married with children, single taking care of a disabled or aged parent, and other real life environments.
"The first round," she explains, " students will have a minimum wage income." With that money they "purchase transportation, housing, insurance, groceries" and health care. "It's a very good experience in understanding 'adulting," she notes.
The second round requires students to make the same purchases, but with a higher income, replicating the increased financial security of a trades education, college degree, acquired skills, and more.
Since "life happens" in the adult world, the simulation includes a character named "the green reaper." He or she "hands out cards to random individuals. Some win the lottery, but for others, their transmission goes out."
"It's very realistic," Beckett says, adding that "the learning that happens in this activity is authentic and relevant for our students."
She shared that many students lack the basic knowledge of how financial products such as insurance work, describing the reaction of a middle school student learning that health insurance covered broken legs. "He was jumping up and down, saying 'my insurance will pay!' He was so excited!"
Beckett said that this activity prepares students for a more formal requirement coming up in state schools. In 2020, the State Legislature passed a bill requiring West Virginia schools to prepare a curriculum to satisfy a half credit personal finance requirement. Most systems will "embed" the learning in senior civics classes.
At the time, "Personal finance in my opinion, next to reading and writing, is probably the most important thing that we can get these kids out of high school with," Delegate Robert Thompson (D – Wayne, 19) told West Virginia Metro News.
Beckett explained that the county schools were working with the Truist Bank "Reality Check" program. Teachers will learn the curriculum and how to use the related online platform. Some high schools will be ready this spring and all will have it by next year.
"We need to make sure that students have good basic sound strategies," she said, adding that they must also "realize the need for things like home insurance."