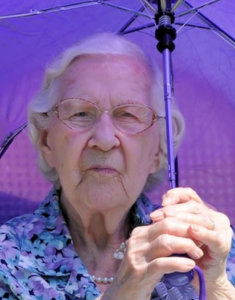 Mary Madeline Kearns
Mary Madeline Kearns, 104, of Lumberport, WV, passed away on May 27, 2023 at her residence, surrounded by her family.  She was born in Wilsonburg, Harrison County, WV on April 16, 1919 to the late Jesse L. Heaton and Sarah Della (Nicholson) Heaton.
She is survived by one son, Richard K. Kearns and wife Anna Fay of Lumberport; five grandchildren:  Diana L. Sheldon and husband David of Erie, PA, Debra J. Bedell and husband Thomas of Lost Creek, WV, Rose M. Roth and husband Steven of Lumberport, WV, Thomas D. E. Kearns and wife Lara of Stonewood, WV, and Karen E. "Carrie" Elliott and husband James of Oakland, MD; five great grandchildren:  Jess Sheldon, Taylor Workman, Dejah Bedell, Jared Roth and Jacob Roth; four great great grandchildren:  Jayden Roth, Dylan Roth, Brielle Roth and Madeline Workman and many nieces and nephews.
In addition to her parents, Mary is preceded in death by her husband, Jesse Karol Kearns, whom she married on August 6, 1938; one son, Thomas B. Kearns; four brothers:  Bernard Heaton, James Edward Heaton, Lewis W. Heaton and Roy Lee Heaton and three sisters:  Thelma Pauline Heaton, Dorothy Waveline Davis and Rachel Ernestine McDougal.
She was one of Jehovah's Witnesses and always tried to share the Bible's message, doing so by letters and phone calls in her later years.
The family would especially like to thank her caregivers:  Jami Beezel, Becky Phillips, Janie Hardesty and Gina Roth, along with WVU Medicine Hospice for their loving care.
In keeping with her wishes she will be cremated. A private family graveside service will be held at a later date.
Dorsey Funeral Home is honored to be handling the arrangements for the Kearns family.