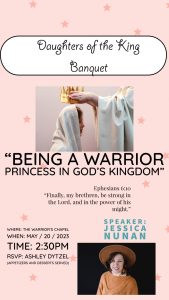 By Erin Beck
The Warrior's Chapel is holding a free mother/daughter banquet on May 20, but Ashley Dytzel, who is the wife of the pastor of the church, noted that other women and maternal figures could attend.
The "Daughters of the King Banquet" is focused on "being a warrior princess in God's kingdom" and will be held at 2 p.m.
The speaker will be Jessica Nunan.
"I am a homeschool mom of 3 who loves Jesus and her family," Nunan said. "I serve in children's/teen/and young adult ministries at Victory Baptist Church in Fairmont. My husband is currently pursuing his theology degree at Mountaineer Baptist College and we are looking forward to the future God has for us! Our goal is to raise children who love Jesus and to share His good news with the surrounding communities."
The event includes "food, fun and girl time," Dytzel said.
The Warrior's Chapel is on 68 Main St. in Shinnston.