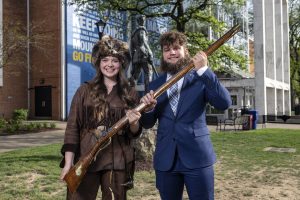 MORGANTOWN, WV — Carrying on a West Virginia University tradition, Mikel Hager began his role as the Mountaineer mascot Friday, April 21 when Mary Roush passed the rifle during a symbolic ceremony at the Mountainlair.
Hager, a four-year WVU cheerleader, is a senior exercise physiology major minoring in psychology and communication studies from Madison. He was announced as the 2023-24 Mountaineer mascot March 4, and made his first official appearance as the Mountaineer during the annual Gold-Blue Spring Football Game Saturday, April 22.
"I am honored to have the privilege and opportunity to serve WVU and the state of West Virginia as the 69th Mountaineer," Hager said. "I hope to make the best of my time in the buckskins and have an impact on Mountaineer fans everywhere."
Roush is a sophomore advertising and public relations major minoring in sports communication from Mason. She said fulfilling the Mountaineer duties was an unforgettable experience.
"Serving as the Mountaineer has been the greatest honor of my life," Roush said. "I am forever grateful for the fans I've been able to meet and the places I have been able to see. I am so excited to see what Mikel will do during his time in the buckskins and I wish him all the best."
Other former Mountaineer mascots in attendance at the annual Passing of the Rifle ceremony included Mark Boggs (1984), Michael Garcia (2014-2015) and Trevor Kiess (2018).
The event was presented by the Mountaineer Mascot Program and Mountain Honorary.