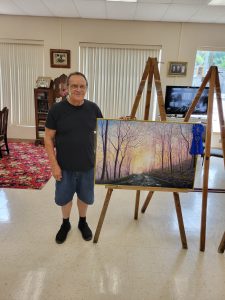 By Debra Herndon
A reception was held Saturday, August 26 th for local artists who participated in the Bice-Ferguson Museum's Art Show. The artists and their families enjoyed refreshments and had a good time communing with their fellow artists. 
Ribbons and cash prizes were presented by Museum Director Debra Herndon and winners were determined by the number of best in show votes the piece received.
First place went to Charlie Cowger for "Sunrise Church." Second place was won by Delorie Minor for "Sawing Logs." Sulayne Brooks won third place for "Fallen Leaves." Local artists are invited to participate in the 2024 Art Show to be held in August. 
Beginning September 1, 2023, the Museum will host a quilt show. Museum hours are 10-2, Thursday, Friday and Saturday.