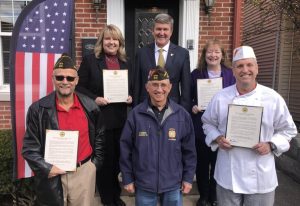 Clarksburg, W.Va.   WV Secretary of State Mac Warner stopped by Clarksburg on Tuesday to help the U.S. Small Business Association celebrate National Veteran's Small Business week.  
Warner presented SBA WV State Director Karen Friel and Harrison County Chamber of Commerce President Kathy Wagner with a proclamation claiming this week (Oct. 29 to Nov. 4) as Veteran's Small Business Week in West Virginia.
Currently, there are 4,084 veteran-owned businesses registered to operate in West Virginia.  138 of those businesses are here in Harrison County.
Photo ID left to right:  (Front row) Veteran business owner John Aloi (Papa Joe's in Fairmont); Jim Talerico, former Commander of VFW Post 573 in Clarksburg; and veteran Ron Eagle, president of HQ Aero Management at North Central WV Airport.  (Back row) US SBA State Director Karen Friel, Secretary Warner, and Harrison County Chamber President Kathy Wagner.