By Maralisa Marra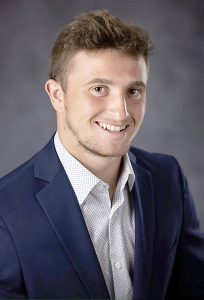 Nick Kellar, son of Chris and Shannon Kellar of Shinnston, was elected as Lincoln's Grand Marshal for the 2022 Homecoming Court. 
"It's a compliment whenever you're known so well that you're voted for something as great as Grand Marshal," Kellar said. 
Every year, all grade levels at Lincoln High vote on a senior male student to serve as their Homecoming Court Grand Marshal. It is an honor bestowed upon a classmate who demonstrates leadership, achievement, and character. 
Kellar is known so well throughout Lincoln High because of dedication and engagement in school activities. He leads his school as student body president all while maintaining his positions in yearbook, the school newspaper, and National Honor Society, as well as serving as a Key Club board member. 
English teacher Maria Osbourn said, "Nick is no stranger to so many clubs, groups, and organizations within and around the school, it is no surprise the kids honored him with the title of Grand Marshal. As president of the student body, quarterback of the football team, and yearbook staff member, he definitely stays busy, and the other kids see that. I believe he is also part of the Key Club, National Honor Society, and DECA/FBLA. He is a well balanced kid who tries to give a little to every aspect of the school, so serving as Grand Marshal of the Homecoming Court suits him well, too." 
Kellar also leads outside of the halls of Lincoln. He is the quarterback of the varsity football team, plays centerfield in baseball, and he is a previous relay runner for the track team.
"It means a lot to me [to be Lincoln's quarterback] just because it's something that I've always grown up really looking forward to being," Kellar said. "And now that I'm here and it's my senior year…it's like one of those things that you've always looked forward to happening and it finally happened." 
After Kellar's time at Lincoln, he plans to pursue a degree in marketing at one of his prospective universities: University of Notre Dame, University of North Carolina, University of Virginia, and Vanderbilt University. 
In terms of life after his undergraduate studies, he said, "Right now, the goal is to start my own business." Kellar plans to attain a skill set that will equip him to come back to his hometown and best serve his community because he has the betterment of Shinnston at heart. 
After being deemed Grand Marshal for the culmination of his homecoming weeks at Lincoln High, Kellar said, "I think it's great to basically know where I stand in the school with everybody. I think that's one great thing about it."