Business owner "raised to believe in Shinnston"
By Maralisa Marra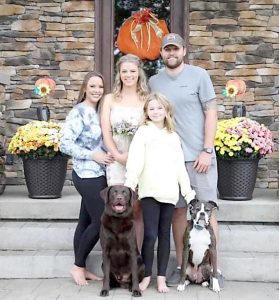 Shinnston native Adam Southern carves out time to better his community not only for his family and loved ones but for generations to come. 
Southern is determined to find ways to make his community thrive. He said, "I plan on living here my whole life, and I have two children that live here, so we're just hoping to keep their community on a positive upswing and just keep things going in the right direction for future generations." 
Alongside being the owner of the local Ace Hardware, for the last nine months, Southern dedicated his time to bringing an event to town that Shinnston has never seen before—the first annual Rollin' Brews Beer Fest on Sept. 17. 
Southern said that he and his family were excited about bringing the Beer Fest to the community this year. 
"I think it turned out pretty well. I had a lot of positive feedback on it, a few things that people suggested that we do next year," Southern said. 
The idea originated from a conversation with one of his friends from the Nutter Fort area who suggested for Southern to present the idea to the city and try out the festival in Shinnston. He said he presented the idea to Council in January of this year. 
"I went to the Council meeting and did that [presented Rollin' Brews], and they were all for it," Southern said. "We started planning it in March of '22, and just took it and ran with it." 
He said some of the changes will be a little more formal like having a booth set up for bottled water, and he hopes to be able to use more space at the city park. Since the event has to be fenced in due to regulations, he said he hopes to be able to expand the fenced area to invite more booths, vendors, food trucks, and an even larger crowd. "We already have a layout for next year," Southern added.
Southern also said that partnering with the Rollin' Coal Gravel Grinder bike race helped Rollin' Brews out, as well. "They bring that same vibe and type of crowd with them," he said. 
As a business owner who comes from a family of business owners, as well, Southern said, "We want to be as positive as we can…We enjoy doing things for the community."
Not only did Southern bring Rollin' Brews to fruition this year, but over the years he has lent a hand in many projects throughout the community. He donated the lumber for the stage at the Green Space and volunteers alongside his mother, Kim Southern, in the Shinnston Community Garden.  
Southern makes it a point to donate to the local schools and sponsor local athletic teams. "I love to help out the schools," he said. "Even the Little League or the (Shinnston) Soccer Association–I try to do as much as I can for those organizations and the kids." He said they also sponsor Jerry West Basketball teams. 
Overall, Southern said, "I would just like to get the community involved more." 
He has considered the idea of a Shinnston business fair where all the businesses in Shinnston who want to come together at the Green Space can set up a booth to present what their business does, what products and services they offer, and bring along some samples, as well. "That way all the businesses would be in one location, so it would be kind of a one stop shop to check Shinnston's local small businesses out," Southern said. 
He also said, "I just want to say thank you to the community for helping out with Rollin' Brews and showing up, and all the volunteers were fantastic." Since there will be more vendors next year, he said they will also be looking for more volunteers. 
Lifelong friend Whitney Boggess reflected on the impact Southern has made in the Shinnston community over the years. 
"It's not very often that you can say that you've known someone your entire life, but I can honestly say that about Adam. Adam was raised to believe in Shinnston, and that is why he worked so hard to bring Ace Hardware here. He wanted to see growth in a town that he led to a state championship basketball game in high school and that generations of his family have called home for so many years," Boggess said. 
Southern and his family are working towards a positive, brighter, and more inclusive Shinnston community. 
Citizen of the Month is a recognition sponsored by Dorsey Funeral Home in Shinnston – locally owned and operated.