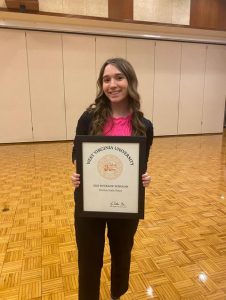 By Kara Linaburg
Kierstn Posey, a senior at Lincoln High School who was recently awarded West Virginia University's Bucklew Scholarship, has been named the Citizen of the Month for her accomplishment and other contributions. WVU describes recipients as "promising future leaders."
The scholarship is awarded to 20 high-achieving students and is WVU's highest academic scholarship.
Posey's chosen major for the fall is exercise physiology. She is working towards becoming a pediatric hematologist, a doctor trained to treat and diagnose blood disorders and cancer in children. Her reason comes from not only a love of the medical field, but a diagnosis she received her junior year in high school.
"So junior year of my soccer season, I used to be really good at soccer, and that season I kinda was dropping down and we really didn't know why," she said."My skill level wasn't as high because I wasn't able to run, I had no energy, and at the end of that soccer season we went to have my blood tested."
From the results of the tests, Posey found out that she was severely iron-deficient anemic, and according to the Mayo Clinic, this leads to reduced oxygen flow to the organs. "So, I had to go through a lot of doctors," Posey said, "and a lot of bloodwork, and I ended up seeing a pediatric hematologist at WVU Children's Hospital. And just because of researching, just like, 'what's wrong with me so much,' I kinda found an interest in blood disorders in children."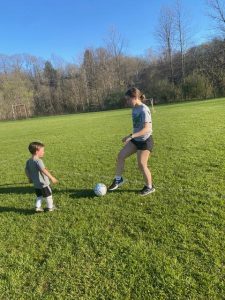 Posey said that with her diagnosis, "I really had to become committed to recovering. It also made me get into the research aspect more. At the time, I was taking a WVU biology class and we were getting ready to cover the section about our blood, so it really made me take a deep dive into stuff I was interested in. Because I always knew I wanted to do medicine, but I never knew what kind. It kinda gave me a serious look at how I want to spend the rest of my life."
Posey has worn many hats during her years at Lincoln. "I am a four year varsity starter for our soccer team, I am a member of National Honor Society, Student Council executive committee and Key Club, and I also serve as vice president of the class, where I am in charge of organizing fundraisers to raise money for prom and graduation.
As part of being vice president, she was also part of the father daughter dance in Shinnston. She and other officers were the ones who organized and put it together the last couple years.
Posey also enjoys gardening, volunteering at Big Elm Elementary, volunteering as a soccer coach for U6 in Shinnston, and spends all the time she can with her three-year-old brother. "It's nice to volunteer your time, especially nowadays it's hard to get parents and just people to come out and volunteer,"she said.
"I have been a part of her school career since she was gosh, probably in third grade," Meighan Jones, vice principal of Big Elm Elementary, said of Posey. "She's committed, she's passionate, and dedicated. I have never seen a child grow and go in and do exactly what she said she was going to do."
Jones said watching Posey grow up has been inspirational. "Now as a young woman, she'll come into my office and it's like talking to someone I've known my whole life, a friend. She's so mature for her age. That girl can do anything she wants to do."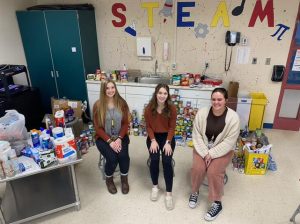 Posey said that recently she ran a service project at Big Elm while volunteering.  "So for 100 days of school I wanted to raise 100 items for The Lord's Pantry," she said. Posey asked the parents to help the kids donate items and the class with the most items would win a treat. "And by the 100th day of school, we'd raised over 500 items for The Lord's Pantry. We far exceeded our expectations. They (the students) were all great. We had to give them Icees just because they all did so good."
Posey said that her future plans are to attend WVU and once she graduates, to work at the WVU Medicine Children's Hospital. She toured the facility through a WVU event and was impressed with all they have to offer patients.
"Once she sets her mind to it, she's going to do it and she's going to do it well," Jones said. "I just love her. She goes above and beyond anything she does. She's going to be successful. I'm just so excited for her."