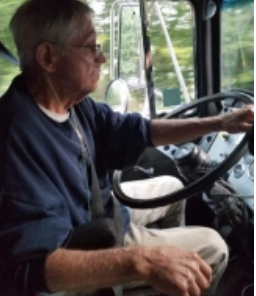 Ronald "Ronnie" "Ron" D. Ashcraft
It is with a broken and heavy heart that we announce that on April 14, 2023, the rock of our family Ronald "Ronnie" "Ron" D. Ashcraft went home to be with the Lord at the age of 75. He was placed on life support at J.W. Ruby Memorial Hospital after unexpected events following eye surgery. He showed his fighting spirit, was removed from life support and enjoyed 3 days of love and laughter with his family, until his body grew tired.
Ron was born September 15, 1947 in Clarksburg. Ron is survived by his wife of nearly 40 years, Patricia (Davis), whom he wed on May 28, 1983. In addition to his wife he is survived by his daughters: Ashley Ashcraft of Shinnston, WV; Amber Ashcraft and companion James McIntire of Wallace, WV; Angela Jones and husband Brooks Jones of Clarksburg, WV; April Ashcraft and companion Adam Luchuck of Wallace, WV. Heather Miller and companion Adam Rolland of Jacksonburg, WV. Also surviving are his grandkids: Justin Owens, Emma McIntire, Dawson Ashcraft, Raelynne Weaver, Gavin Jones, Jaxon McIntire, Wyatt Ivey, Ronnie Jones, Finn Jones, Shawn Miller, Justine Miller, Avion Luchuck, and Jace Luchuck. One Great-Grandson Granger White. Extended family: John Riddle, Zach Weaver, and Shannon Sampson. Sister June Sutton. Brothers-in-law: Criss Davis Sr. (Sarah) and Eric "Bub" Davis (Joyce). Sisters-in-law; Debbie Davis(Charlie) and Tammie McAurthur (Kenneth). Special friends: John Huston, Ronnie Fawcett, Becky Gray, and John Quickle. Many nieces and nephews, along with great-nieces and nephews.
Ron was preceded in death by his parents Clark and Ila Ashcraft, Brothers: Raymond Shields, William "Bill" Rowan, Ronald Rowan. Sister Jean Sutton. Mother-in-law: Bonnie Ayres, Fathers-in-law: Marvin Davis and Floyd "Dale" Ayres. Many aunts, uncles, and cousins.
Ron worked all his life; as a child he was a helping hand on his family farm. Worked in construction in his early adulthood. He was an employee for North American Coal for 26 years in Powhatan Point, Ohio. He owned and operated United Lumber Company for 7 years and most recently owned and operated Blue Ox Trucking up until his final days. All who knew him knew that his priority was providing for those he loved the most; and if there was money to be made he was making it.
Ron had a giving heart; he volunteered for many years at Wallace Company #14 Volunteer Fire Department for several years. He would religiously donate to charities and churches.
Ron loved all heavy equipment, motorcycles, ATV's of all kinds, and being behind the wheel of his Ford LTL 9000 aka "The Big Blue Bitch". He had unwavering faith in God and instilled that in his children. Believed that no meal was complete without potatoes and that was the biggest and most recurring argument over the last 39 years, so much so that there will forever be a mashed potato stain on the ceiling of the kitchen. Was passionate about Nascar and was an avid Dale Earnheardt fan. He enjoyed hunting and fishing. His favorite times were family vacations at Pleasant Creek State Park where he would sip coffee by the campfire and spend the day on the lake in his boat. In recent years, he preferred a life of luxury atop the mountains of Canaan Valley. On Saturdays, during the summer, he was hauling bikes for his grandsons to every Mountain State Hare Scramble race. In the evening, you could find him in his rocking chair, next to his heater, watching Westerns and drinking a shot of Jack.
His smile would shine brightest when his daughters were happy, when his grandkids were stirring up dust, and when he could irritate his wife just enough to raise her blood pressure.
The family would like to give thanks for the outpouring love and support during this time.
Online memories and condolences may be shared at www.harmerfuneralhome.com
A service of Harmer Funeral Home, Shinnston.