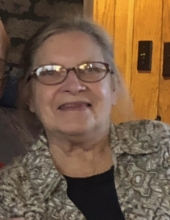 Sharon Rose Nicholson
Sharon Rose Nicholson, 78, of Worthington, passed away on Friday, April 21, 2023, at her residence. She was born in Four States, April 10, 1945, a daughter of the late Roy and Faye Rutherford Vankirk.
Surviving are her children: Linda Nicholson Barker, Worthington, John Nicholson, Worthington, Quint Nicholson and his wife Kelly, Bridgeport; two grandchildren: Tonya Valdivia and her husband Emilio, Worthington, Gage Nicholson, Morgantown; two great grandchildren, Astasia and Kianna Barker; her siblings: Francis Vankirk and his wife Harriet, Worthington, Linda Stalnaker, Morgantown, and a sister-in-law, Debra Vankirk, Fairmont; nieces and nephews: Carol Myers, Burt Tibbs, Peggy Keller, and Lee Vankirk; great niece and nephew, Peyton and Kendra Vankirk; and her two dogs, Chi Chi and Teensy.
In addition to her parents, Sharon was preceded in death by her former husband, Ronnie Nicholson, one brother, Ronnie Vankirk, and a granddaughter, Jessica Barker.
Sharon was a retired coal miner with Consol Energy, Loveridge Mine. She was a member of the Teverbaugh Church and the United Mine Workers of America. Sharon was a born caregiver and helped anyone that she could. She loved working outdoors and was an avid gardener. She enjoyed attending family sporting events and never missed a chance to cheer on her children or grandchildren in their many sports throughout the years. She loved hummingbirds, lived life to take care of her family, and was a caring mother and grandmother.
Condolences may be extended to the family at www.perinefunerals.com. The Perine Funeral Home is honored to serve the Nicholson family.