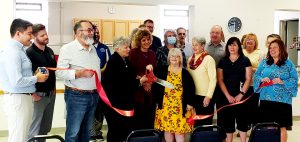 By Rosalyn Queen
The Progressive Women's Association recently held a ribbon-cutting for the new commercial kitchen in the Uptown Event Center in Clarksburg. The kitchen was made available by a $10,000 grant from EQT written by Audra O'Dell and Elinda Carson. 
Ellen Rossi, president of the EQT Foundation stated, "We are honored to share in the excitement with our community partner, the PWA, as they open their new kitchen space for the use of the community. It is such an innovative project and one we hope will be used by many."
Clarksburg Mayor James Marino gave a welcome and the Chamber of Commerce handled the ribbon-cutting.  Laura Goff Davis supplied refreshments.
Mrs. O'Dell gave tours of the kitchen and explained the use of the new equipment. Some of the new equipment includes a dehydrator, convection oven, and bottler, and other items. Complimenting the kitchen is a dining area that can seat approximately 175 people. This is an excellent venue for receptions, meetings, and parties.
It was announced that individuals wanting to use the facility can do so by scheduling an appointment with Ms. Carson.
It is the hope of the PWA that this facility will encourage entrepreneurs to start their businesses for future success. Individuals who are trying to start up food businesses or farmers who want to can their products will find all the necessary equipment at the PWA. 
Also at the ribbon cutting, I stated that this is only one of many services that the PWA provides for the area. It also helps us continue our mission of service.
Take care and until next week "Now You Have Heard It Through The Grapevine."