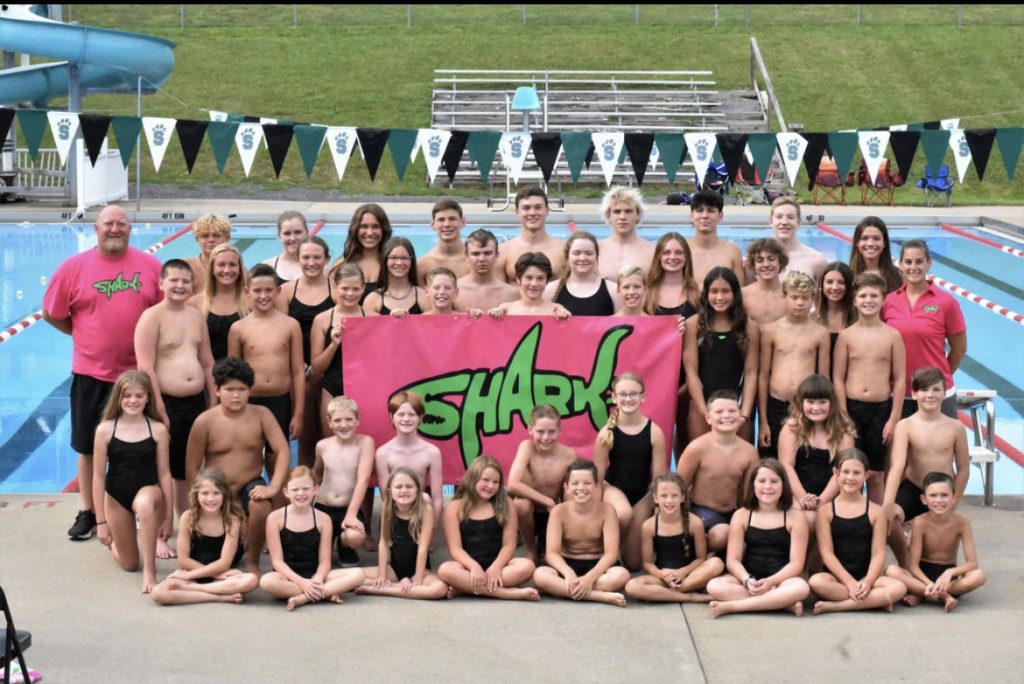 Submitted by Tonya Barnes
The Shinnston Sharks swim team achieved several first-place finishes and a meet record at the final swim championship earlier this month.
On July 15 and 16, 43 members of the Shinnston Sharks swim team competed in the North Central West Virginia Summer Swim Championship in Buckhannon. Fourteen teams competed in 120 events over the two-day swim meet. Overall, the team finished with over 130 top 10 finishes.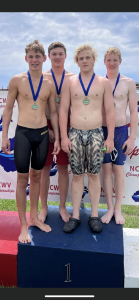 The boys relay team for the 15 – 18 age group, Quade Harris, Matthew Smith, Owen Guthrie, and James Hadjis achie
ved overall first-place finishes in both the 200 Meter Free Relay with a time of 1 minute 43 seconds and the 200 Meter Medley Relay with a time of 1 minute and 53 seconds, a new meet record. Guthrie finished second in overall points in the boys 15 -18 category. 
The girls relay team for the 15 – 18 age group achieved overall second-place finishes in the same two relays. The 200 free relay team was comprised of Marra Johnson, Amelia Romano, Maggie Guthrie, and Camryn Shingleton who finished the event in 2 minutes and 6 seconds. The 200 Meter Medley was completed in 2 minutes and 21 seconds with Addyson Tharp replacing Maggie Guthrie in the lineup. Romano finished tied for third in overall points in the girls 15 – 18 categories. 
Jaxon Kufner finished with an impressive first-place finish in the 25-meter fly with a time of 26.05 seconds in the boys 7/8-year-old category. 
Samuel Lipps of the boys 9/10-year-old category finished first in the 50-meter backstroke. 
In the 100-meter backstroke for girls 13/14, Lila Barnes earned first place with a time of 1 minute 21.29 seconds. 
Other notable performers were Isabella McGrady, earning second-place medals in both the 200 Individual Medley with a time of 2 minutes 25.59 seconds and the 50-meter fly with a time of 34.41 seconds and Colton Key who finished in the top 3 in 6 of 7 events. 
The Sharks swim at the Shinnston City Pool and are coached by Rick Johnson and Sonia McGrady.