By Maralisa Marra
At the City Council meeting on May 31, council members approved a short-term loan for roughly $92,000 to cover sewer projects. City Manager Chad Edwards said the loan will be reimbursed with funding from the American Rescue Plan Act, a federal economic stimulus and COVID-19 relief law Congress passed last year.
 According to Edwards, this 90-day loan is necessary because the city was "hit with a lot of big projects all at one time," such as the rebuilding of the lift station, the pump station at the wastewater plant; repairs following erosion on Van Rufus Drive, and the installation of a manhole to remedy sewer line malfunctions at a residence. Edwards, who has noted in the past that sewer line breaks are common in the area and that some people in the area are still reliant on septic systems, has said "these are all projects that have to be done, and by using this extra money [ARPA money], that means we can leave the regular operating funds alone." 
The 90-day loan will amount to about $92,000. City Council members approved seeking the loan, and the special meeting was adjourned. 
Moving on to executive reports, Edwards updated the council about the 1,500 AMR meters that the city has installed. He said he hopes that the system will be up and running by June 30. Automated meter reading is "the communication technology water utilities use to collect water consumption and status data from water meters," according to Badger Meter Inc. 
Edwards said there will be an app for the meters that people will be able to download, but the app will not be up and running until 4 weeks after June 30. That four-week time period will give workers time to test the app before making it publicly available. 
 Customers will be able to download the app, check their usage and set alerts so as not to exceed a certain amount if they choose, Edwards said.
Edwards also said that during the high-speed chase and shooting on I-79 on May 26, Harrison and Marion counties requested the assistance of K9 Officer Bear. No officers were harmed during the chase, Edwards said. Harrison County Sheriff Robert Matheny said the chase started just before 6 p.m. when three people left Clarksburg and headed towards Bridgeport "in a pursuit involving law enforcement" and "the three suspects fired shots at law enforcement before they headed north on Interstate 79," according to WBOY. According to WV News, "The pursuit began after Clarksburg police responded to a shoplifting complaint at the Clarksburg Walmart." It was unclear how the K9 assisted.
Edwards said that the pool is open, and the slide has been repaired and inspected.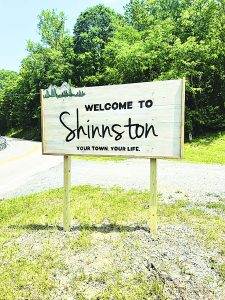 Vice Mayor Andrew Kisamore recognized and thanked Caitlyn Stealey for the new Shinnston welcome sign on Saltwell Road. 
One of the discussion items on the agenda was an update on Frontier Days, which is Shinnston's annual festival that pays homage to the city's founding; "it originally began as a celebration of the city's centennial," according to WV Tourism's website. Brendan Gallagher, coordinator of Frontier Days, told council that Frontier Days will take place at the city park rather than downtown. There will be no carnival rides this year. "We're actually going to make Frontier Days about frontier and bring it back to old school," Gallagher said. 
He is planning to have a blacksmith and axe throwing. He said he is toying with the idea of having a derby race, as well. There will also be a Frontier Days car show and various music acts, among other vendors and activities.
The discussion continued with information on the current lease and bond information with projections of phase three of the Water Project. According to WBOY, Shinnston's water project is to focus on the upgrade and replacement of water lines and pipes from Shinnston to Worthington. City officials project an increased cost for phase three of the project. The original estimate of $5.7 million dates back to 2019 and pipe prices have nearly doubled in price, according to Stantec Engineer Consultant Richard Gaines. Before moving forward with phase three, Gaines said, "There are a lot of things to get cleaned up. I don't want to go forward again and [have to] stop." 
Penalties for high grass violations were a hot topic. Edwards said instead of a warning for high grass, there will be an automatic ticket to the property owner for neglecting their lawn upkeep. 
Mayor Patrick Kovalck raised an issue of concern: "One of the problems I can see us running into with this is locating which bank, who to talk to, and who to press the citation against," Kovalck said, adding that some of the bank-owned and privately owned properties have unresponsive owners. 
Last, Edwards suggested establishing and preparing a stormwater ordinance. He wants to begin evaluating gutters that are still draining into the sewer. Years ago, property owners were prompted to remove stormwater drains from flowing into the sewer, but there are still properties that have yet to do so.