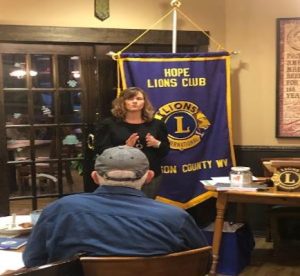 Submitted by Harrison County HOPE Lions Club
Shinnston native and contributing columnist to the News & Journal Jill Fratto was the guest speaker at the HOPE Lions Club regular meeting on March 10 at Meagher's Irish Pub.
Fratto, who is the Project AWARE manager for Harrison County schools, was introduced by HOPE club secretary Steve Glass, also a Shinnston native.
Project AWARE is a federally funded program designed to help schools:
increase awareness of and address mental health issues among school-age youth

provide students who have social, emotional, mental, or behavioral health issues with support and mental health therapy within the school system

build upon or expand current expanded school mental health services

engage families and the community in supportive mental health initiatives for children
Current counties enrolled in the Project AWARE program are Cabell, Clay, and Harrison (Adamston, Wilsonburg, Washington Irving Middle, and Robert C. Byrd. All services provided by Project AWARE are provided at no cost to the family.
Project AWARE provided support, training, and resources for school staff and students related to mental health issues. It also provides qualifying students access to mental health services through school mental health therapists, behavioral health therapy services in the school or through teleheath (summer months), family therapy at the school or through telehealth, and group therapy to students.
For more information about Project AWARE contact Fratto at 304-326-7392 or jill.fratto@wv.k12.us. 
The Harrison County HOPE Lions Club is a special purpose, nontraditional Lions club focused on people hurt by substance use disorders. 
In other club business, members voted to donate $200 to Lions Clubs International Foundation to be used for humanitarian aid to Ukrainian refugees. Members will also be participating in the West Virginia Prevention Solutions Easter Egg Hunt on April 9 and the Community Baby Shower and CASA 5k Superheroes Race, both on May 14. Club President Tara Perri presided during the meeting.