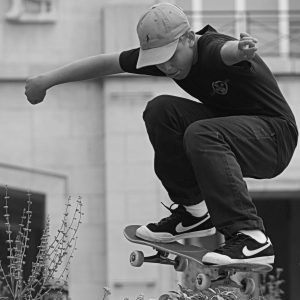 By Erin Beck
Editor
While far from a done deal, a local landowner and a company contracting with the City of Shinnston have discussed the prospect of developing a skate park in town.
During the Feb. 14 City Council meeting, Brendan Gallagher, co-owner of Black & Teal Concepts, LLC presented tentative plans for a skate park opening event. Black & Teal Concepts, a branding studio, is providing event planning and promotional services for the city, following former Economic Development Coordinator Anthony Tate leaving that role for a private-sector position.
In an interview, Kevin Nuzum, who owns the land of interest near the rail trail, a grassy field near Station Street, said he'd discussed the possibility of using that land for a skate park with Gallagher.
Nuzum, who is also the pastor of the First Baptist Church of Shinnston, noted that local youth enjoy skateboarding but lack a venue, but he said he hadn't yet been in contact with city officials.
"All that I'm interested in doing is giving the property or basically the place to do it," he said. "It's a flat piece of property that I am willing to let them have or use."
Gallagher said that the idea is "in the preliminary stages right now."
"This is a situation where we don't want to put the cart before the horse," he said. "We are looking at the logistics of it. We have a location for it. But the biggest concern is going to be liability. If we can get the liability situation taken care of, then it's probably going to be no problem. The actual construction of the skatepark and all of that will be next to nothing compared to getting the liabilities covered."
Shinnston Mayor Pat Kovalck was receptive.
"I've not had any further conversation with Brendan or Kevin Nuzum about that," he said.  "The city would definitely be interested in doing that. I think it's a great idea for land downtown. But the funding, of course, everything leads back to that. We'd have to find the funding, and we don't have anything allotted for that right now. I'm not saying that we can't do it. But as of right now, our budget is set. It would be a matter of finding any money to contribute toward that."