By Maralisa Marra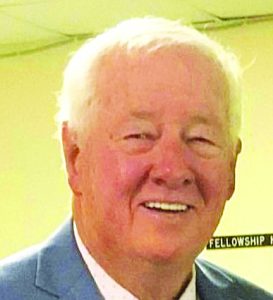 Max Palmer is running to represent Ward 1, East Shinnston, in the June 7 City Council election. Palmer has lived in Shinnston since 1961 when he moved here after high school. He has raised his family here and currently pastors the Coon's Run Baptist Church.
Jana-Kate Layton has chosen to withdraw from the race. She will be moving out of city limits, but she said, "I do hope Shinnston thrives for its future because it has so much potential."
Palmer would like to press the police department to enforce the speed limits more so than they do now. Palmer would also like to push for better road repair in East Shinnston, especially the potholes on East Avenue.
Although some of the streets in East Shinnston that concern Palmer are state-owned, and it is the state's responsibility to upkeep them, Palmer believes the city should have a hand in the upkeep, as well. Palmer said, "If the city police can write you a ticket on a state-controlled road…then I think they ought to share some responsibility about keeping the roads up." Therefore, Palmer plans to spearhead this initiative for East Shinnston with city road funding.
Palmer plans to utilize his experience as a minister, who has worked on many committees, to work as a team with the other council members. He does not view city council as an individual effort but instead, a unified effort.
Palmer supports tax incentives for new businesses for a period of time to help new businesses become established, and he believes the funding for these incentives should come out of the city budget. When asked what kind of tax incentives he supports, he said he would have to think about it more in-depth.
As for annexation, Palmer said he supports it and believes the city should have already annexed to Route 73 before Bridgeport got their hands on it. He said annexation could create more revenue for the city.
Palmer believes that the privately owned dilapidated structures should be the responsibility of the owner. "I think they ought to be responsible for getting those buildings down, and if they don't do it…I think they ought to be levied in order to get the place cleaned up," Palmer said. If need be, he also said he would be willing to take legal action against the property owners to get them to take care of their properties.
Asked about the Murphy building, Palmer said, "I think if the foundation structure is bad or dangerous, I think there ought not be a question, it ought to be brought down. However, if the foundation structure is not bad, then it can be used." However, Palmer is aware that demolition or renovation of the building is quite an expense, so he said, "If the buildings are non-productive now, and they need to be remodified, I think there ought to be a cap on how much they [the city] could bid on the bill." Palmer is still generating ideas for the Murphy building, but he said, "We do not have a business that you can buy any kind of houseware stuff, clothing, or anything like that that is open after five o'clock."
In terms of the planned water and sewage plant updates, Palmer chose not to speak on the manner. He said, "I would rather not because I am not familiar with what the PSD does," when asked about the cooperation with Greater Harrison PSD.
Palmer is interested in getting more of the younger generations involved in parks and recreational programs. He would like to push for more games and intramural programs for children to participate in. Asked how to run these intramural events, Palmer said he would like to get volunteers to help with them.
"I'm not sure what I can bring to the table, but this will be a good year for me to find out," Palmer said.