By Maralisa Marra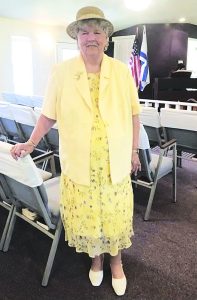 Peggy Barnett, a previous City Council member, seeks to represent Ward 4, west Shinnston, in the June 7 City Council election as a write-in candidate. For the past 27 years, she has been a volunteer at United Hospital Center in the intensive care unit. 
"I just want to be able to be a good councilperson, and if somebody comes to me for help that I have the resources…to find out how we can help them," Barnett said.
She said she wants to push the police department to patrol the West Side more, as well as develop a better relationship with police in case there are any issues in west Shinnston.
"We hardly ever see a police officer over here, and if they come, I don't see them," she said. 
Several candidates have been supportive of B&O tax reductions, which make up about $380,000 of the city's $1.96 million budget. Barnett said she believes that to offer tax incentives to new businesses, the business owner should have to "have it [the business] up to standards" and "go above the guidelines" of upkeeping their business. She said she would be receptive to eliminating B&O taxes for a few months, but then businesses would have to begin paying their B&O taxes because the city needs the revenue. 
As for annexation, Barnett said it could bring more taxpayers into the city. "If the people agree to it, I think it's a good idea," she said.
To resolve the issue of dilapidated buildings on private property, Barnett thinks the city needs to contact the owner and give them the opportunity to demolish the buildings. She said she does not believe the responsibility should fall on the city. But when asked if she would be willing to take legal action against the private owners, she said, "I would back it if I thought it was proper."
Barnett also expressed concern about the safety of the Murphy building. Since it is becoming more unsound daily, she thinks the building should be torn down, and once it has been demolished, she thinks it would be a nice area to create a parking lot. However, she said that if the private owner would renovate it, it could be salvageable. 
When asked about her thoughts on the city's plans for updating the water and sewer systems, she said knows of some skepticism about whether the West Side is connected to the sewage system. If elected, she plans to clarify whether they are connected to the city's sewage system or if they are paying high sewage rates for no reason. She said, "That has always been one of my concerns." 
In reference to the cooperation with Greater Harrison PSD on planned sewage and water projects and upgrades, and potential rising rates, Barnett said, "If it would benefit the older people and anyone in the city, I would be for it, but if it's going to be something that's going to hike our bill higher than it already is, I wouldn't go for that." 
Line breaks are common, City Manager Chad Edwards has said.
Barnett said she is aware that the West Side is lacking recreational facilities, but she said there is no developmental land available to put any recreation for children. She plans to push for the fixing of potholes and new street signs to be installed, which will have to come out of city funding.