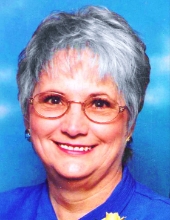 Shirla Atha
Shirla Atha, 76, of Bridgeport passed away Sunday, April 23,2023, at United Hospital Center surrounded by her family.  She was born September 8, 1946, a daughter of the late Homer Claude and Iva Maxine (McDonald) Atha.
Preceding her in death were her sisters Donna Rapp and Carol Fleming, and brother-in-law William (Bill) Holbert. She is survived by her sons Darren and wife Cindy Hardman of Clarksburg and Joshua Hardman of Bridgeport, her sisters Claudia Holbert of Fairmont, Debra (Paul) Samargo of Buckhannon, brother-in-law Tom Fleming of Fairmont, and her baby brother Daniel (Kimberly) Atha of Mt. Clare. In addition, Shirla leaves behind 2 grandsons, 3 granddaughters, 1 step-granddaughter and 6 great-granddaughters.  She is also survived by many nephews and nieces.
She was a graduate of Shinnston HS, Class of 1964.  Shirla worked as a C&P Telephone Operator, for many years. She earned the 55th Annual Voice with a Smile Award for helping a young, blind boy who was mistakenly left home alone. She also worked as a Harrison County bus driver before finally retiring from Ruskin Manufacturing. She later decided to come out of retirement and to serve her community as a school crossing guard for Simpson Elementary School. To know Shirla was to know her family. She enjoyed sharing childhood stories of her parents, siblings, and cousins. She also loved sharing recent news about her children and many grandchildren. Shirla enjoyed spending time with family, reading books, and in the last several years, she found her talent for painting.
As per Shirla's wishes, she will be cremated.c