By Erin Beck
The first installment of the "Songs & Stories" singer and songwriter showcase series, held on Oct. 21, was well-attended and organizer Andy Benson was pleased with the event.
Dozens of attendees came to The Soapbox on Pike Street in Shinnston to hear local musicians' perform in an intimate setting, allowing each singer and songwriter to perform their original songs alongside sharing stories about their inspiration for each song and their writing methods. 
Benson, otherwise known as singer/songwriter A.M. Benson when performing his country and Americana tunes, said multiple people shared positive feedback. 
As founder, performer and M.C., he had a lot on his mind and said he hopes to work on his M.C. skills as the series continues, he said. Planning took a lot of work. Then he watched dozens of people arrive, and he felt a sense of relief.
"Once those chairs started to fill up, it became exciting," he said. "It was weird because it just kind of unfolded organically. We're sitting there, and we're just doing what we do… I didn't feel like I had to be a professional showman."
Some venues are more stressful to prepare for, he said. 
"It just kind of came natural, I think," he said. "I think it did for all of us, when you realize that people are showing up to specifically listen to you. It's not like you're playing in an atmosphere where people are eating, or they're talking overtop of your songs.
It was a situation where people specifically came to hear our songs. So when we went to start playing, it was dead silent."
At the end, all four musicians, following a crowd suggestion to play together, played a "ramshackle rendition" of "Can't You See" by the Marshall Tucker Band. 
He said it felt like "a big jam session, which was awesome for the energy in the room."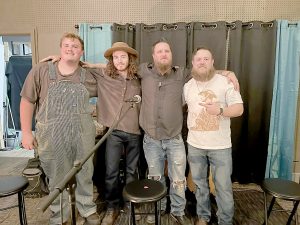 He is planning similar events throughout the region to spotlight local musicians who demonstrate musical gifts but would benefit from a larger platform to be discovered. Those shows will follow the same format.  
He is in talks with several locations about tentative events. The next event is set, though. On Dec. 11 at 3 p.m., an all-female line-up will perform at Market on Main in Bridgeport at 3 p.m. on Dec. 11, he said. The line-up will be announced at a later date. Benson will be the moderator. 
"I specifically want to showcase West Virginia talent," he said. "And specifically people that don't have an outlet. There's a lot of young musicians and songwriters in the area that don't get out and play. They haven't played in the area for 20 years and they don't have a platform because nobody knows them or how good they are yet."
He also said Brendan Gallagher and Maria Cusack of Black & Teal Concepts provided support.