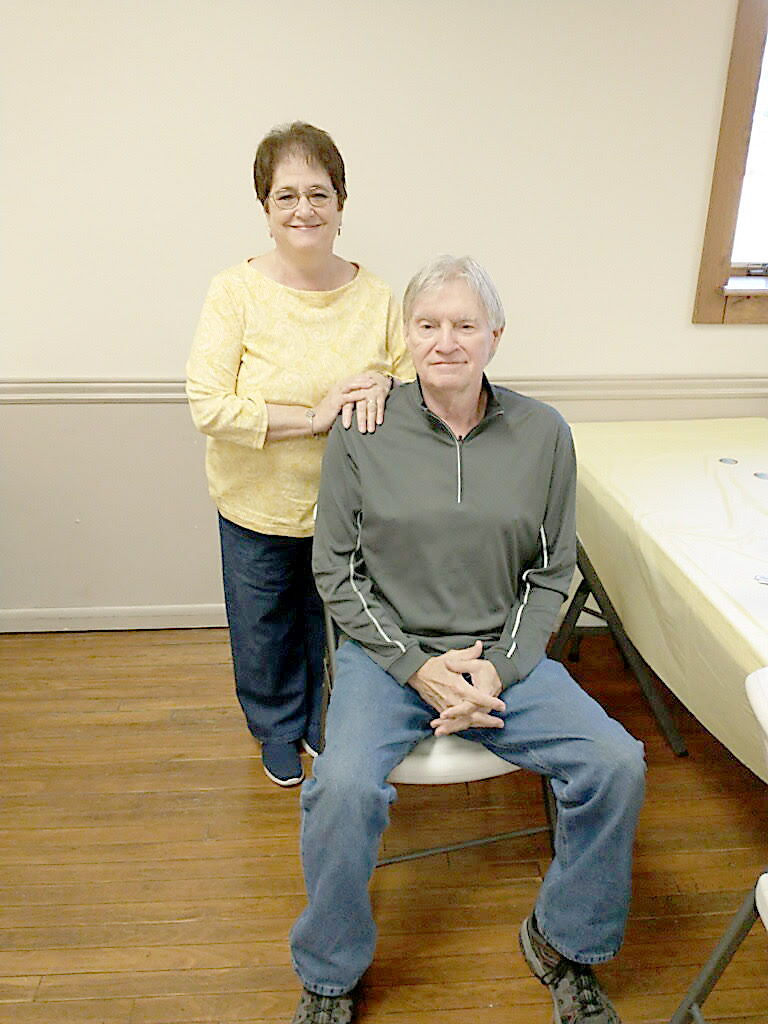 By Maralisa Marra 
Whether it's at a town event like Wind Down Wednesday or a school function, Shinnston can always count on the supportive presence of Shinnston natives Walt and Patty Post.
"Everybody needs a little support and a smile," Pat said.
Often seen at games, concerts and other events featuring Shinnston's youth, they have always tried to support the kids in the community whether it is through athletics or the arts. 
"We just try to help promote Shinnston," Pat said. "I try to support the band whenever they're having something, and at the games, I yell for the band because when I was in school, we had a very little band, and now it's bigger and it's a bigger school, and you just try to keep promoting kids just to give them support."
They have one son, Matt. But kids that they "kind of adopted," who now have families of their own, still keep in touch, she said.
"We've been together for 49 years, so it has been a long time, but we've both grown up trying to support our kids. I have a lot of kids other than Matt [their son]," Pat said. "We have a lot of kids that we've supported over the years from grade school and up."
Walt and Pat also raised their son Matt to love and support the community. "My Matt has always helped whenever anybody needed anything–the floods, fire department–he helped them," Pat said.
Stemming from her father owning a shoe shop downtown for 60 years, Pat said, "We've always grown up trying to be a part of the community and do what we can to help the schools and church [St. Ann's] in the community." 
"You know, we just grew up here," she said.
The Posts are active members in a number of organizations. Walt is a member of the Shinnston Park Board and American Legion Veterans Memorial Board. He helps with the upkeep of the pool and the city park, as well as the memorial downtown. 
Walt also said there are three men in his life who really influenced him: his father Hayward Post, his father-in-law Tom Greco, and his lifelong best friend John Marchio. All are deceased.
"He got me involved in a lot of those things around town because John was community minded, and I kind of followed in his footsteps, and I have to say he was a mentor to me and tried to steer me right," Walt said in regard to Marchio. "But my wife Patty is the most important person in my life along with my son, of course. It's the best move I ever made–marrying her. I can verify that." 
Pat has worked for the local chiropractor, Dr. Clarkson, for 31 years, and she still works part time. She is a lifelong member of St. Ann's Catholic Church where she helped get the Adoration Chapel up and running, and she is an active member of the Ladies Altar Society in which she helps raise money for the church through various dinners and fundraisers. Pat is also a member of the Shinnston Development Authority.
The Posts are dedicated to supporting their hometown and helping the community prosper through support for the city and local businesses as well. Whenever she can, Pat stops by local ribbon cuttings to check out the up-and-coming businesses in Shinnston.
Pat also always makes it a point to lend a hand at Home Style. "I love my Amanda [Sayers, owner of Home Style], and I support her…I love her, and I want to keep her business going. I do whatever I can to help her," she said.
Sayers said she can't imagine living in Shinnston without Pat and Walt. Noting their attendance at a variety of events, she said they "are always around the corner with a smile and a warm hug."
"They are always cheering you on and offering a helping hand with anything you need," she said. "They are the biggest supporters of everything here in town. Shinnston is a better place with them in it."
Wanting to see Shinnston survive and grow is what motivates the Posts to be so present in their community, as well as hoping for kids to grow up, want to stay in Shinnston and contribute to making it a place to raise a family.
"We want to see it survive. It was a great place for us growing up. We had wonderful childhoods here, and we just want to see it continue and thrive and keep it going," Pat said.
Citizen of the Month is a recognition sponsored by Dorsey Funeral Home in Shinnston – locally owned and operated.