By Maralisa Marra 
Shinnston singer and songwriter Andy "A.M." Benson had a vision for the music scene in town, and he is determined to bring it to fruition.
"I've been tossing an idea around for a while about doing some kind of songwriter showcase," Benson said. "I didn't want to do an open mic, but something similar just to hear original music. That was my goal with this because this area is saturated with music." 
As a songwriter himself, he said that he wants to hear what other songwriters are doing. Benson said he was talking to Brendan Gallagher of Black & Teal Concepts one day about his idea, and Gallagher suggested that Benson put on showcases similar to Nashville writers' rounds which feature up and coming singers and songwriters to be discovered. 
"They go out and they do these songwriter rounds, and they share their songs that they've written," Benson added. 
With Gallagher's encouragement, Benson decided to move forward full speed, and Songs & Stories was born. 
Songs & Stories is meant to showcase local musicians' work in an intimate setting that will allow each singer and songwriter to perform their original songs alongside sharing stories about their inspiration for each song and their writing methods. 
Benson plans for Songs & Stories to be broken into installments, and he said, "Each installment of Songs & Stories will ideally feature four musicians and will be regional to make sure local musicians aren't having to travel too far to bring their music to you. This will be a much more intimate type of show to get the crowd involved and something brand new for music lovers to check out." 
Benson is calling the project "The Songs & Stories WV Songwriters" round series. The first installment will take place at The Soapbox in Shinnston at 413 Pike St. on Friday at 7 p.m. It will feature Harrison County musicians Benson, Allen Beverly, Austin Glaspell, and Silas Matheny. There will be a $10 entry fee at the door. 
"I am going to do this perpetually, ideally," Benson said in regard to how many installments he plans to have.
"I want to do it regionally though," Benson added. "It'll be different with every region, and the long-term goal is to have the Songs & Stories brand come into Marion County or come into (Monongalia) County and Taylor County, and then all of a sudden, you've got groups of musicians that are playing together." 
Overall, Benson plans to grow Songs & Stories as a foundation for local musicians to showcase their talents and to spread the original music scene throughout the Mountain State.
"The biggest thing I want to share is that there are fantastic musicians right here in our midst, and it's kind of unnecessary for people to spend five or $600 to drive halfway across the country to listen to their favorite singer when they could pay 10 bucks to go down the street and hear somebody that could potentially be that same artist in five years," Benson said. "[Songs & Stories will be] a lot more intimate setting where you're sitting in a room with 25 people, and you hear a song that really hits you. That's a different feeling than being in a crowd of 2,000 people." 
Featured Musicians
A.M. Benson: "It's kind of a universal language"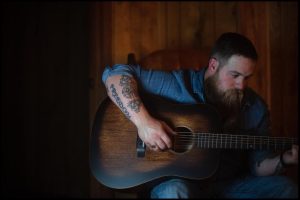 Benson, who goes by A.M. Benson when performing, will be among the first set of performers for the first installment of Songs & Stories. 
"I would consider myself—if I'm narrowing it down to a genre, it's going to be more country/Americana," Benson said, describing his music. "It's a little bit of folk but…country and Americana are the best way to categorize it overall." 
He also said, "I'm really into the storyteller side of songwriting. A lot of my influences are folk musicians [like] Townes Van Zandt, and it's very lyrically based. They're a little bit more intricate musicians, though." 
The stories that Benson is passionate about telling through his music are usually about everyday life.
"Everybody struggles with different things to different degrees, and something that has always been there for people in general is music. It's kind of a universal language," Benson added.
Although he said, "I cannot write a happy song to save my life," his songs are also about triumphs and overcoming aspects of life, alongside sadness.
He said that music is a way for people to relate to one another, as well.
"You hear a song, and you go, 'OK, I'm not the only one that feels that way,' or, 'I'm not the only one that was sad when my best friend got hurt or when I lost my grandmother,'" Benson said. "It makes them relate to the artist in a way that the artist is conveying a little bit of honesty, and the listener can hear that." 
Benson will be featured with three other local artists at The Soapbox on Friday at 7 p.m.
Allen Beverly: "There's a grain of truth to every song"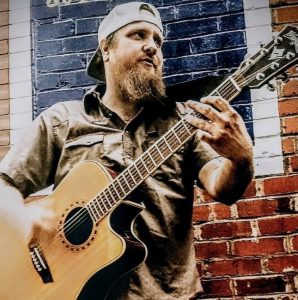 Singer and songwriter Allen Beverly is another featured artist for the first installment of Songs & Stories. 
Beverly grew up on his family farm in Sardis, and he still resides there today. He is also a Lincoln High graduate, so he has a strong connection to  Shinnston. 
Music was a passion of Beverly's long before he could talk. 
"I've always kind of sang, I guess. Even when I couldn't use words, Nana and my momma always said. It was just an instinct," Beverly said. "I was always around music. My grandma on my momma's side was the queen of country music in Cleveland, Ohio back in 1968, and that's something the family clinged to and everything." 
He added, "She and my great grandfather and a few others in the family cut a couple of records in Nashville, out in Vegas, and a couple of different places, so I was raised up around that."
Before getting into country music himself, he sang metal, rock, punk, and whatever else he could get his hands on. He said, "[I] somehow went full circle back to a semi-country sound."
"I basically just write about neat stories that I can tell," Beverly said. "I like to tell a story with every song I do…there's a grain of truth to every song." 
He also said, "I try to move people in some way, shape, or form. I try to be relatable because I am relatable. I'm just some guy that grew up in the middle of nowhere with nothing to do but play around with sticks and stones, and every so often, pick on my guitar."
Beverly said that everyone told him to take his music seriously, and within the last couple years, he has settled down into focusing on his music and taking it seriously like everyone advised. 
In regard to Songs & Stories, Beverly said he is a big advocate for the local music scene, and he believes people should support it more. 
"I think it's [Songs & Stories] a great opportunity for people to actually sit and listen to what the songwriter has to say," he added. "A lot of these folks have some stories that y'all need to hear." 
"We want to be real people playing real music. It's what I feel like songwriters truly are," Beverly said. 
He also just released a four-song album called the "Volga Sessions." He said, "It's just me and an acoustic guitar." To listen, it is on music streaming platforms like Spotify, Apple Music, and Amazon Music. 
Catch Beverly alongside Benson at The Soapbox on Friday at 7 p.m. 
Silas Matheny: "It's coming from your heart"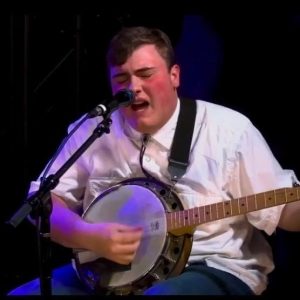 Lost Creek native Silas Matheny draws inspiration from his roots and where he was raised for his music. 
"There's a big field behind our house, and we always drove old cars and fixed them up," Matheny said. He also shoots competition bow and enjoys bow hunting, all of which serve as inspiration in his songwriting process.
He focuses on a type of music called roots music. 
"It's just a mix of old country and blues. When people think of country they think of a banjo, fiddle, and a guitar, but with roots music, it kind of mixes that Americana vibe with the bluesy rock guitar, and you kind of just have a really nice fusion that flows well amongst all people," Matheny said. "It's not just country people on this side and rock people on this side." 
The style of his music is "like a blues-bluegrass style," as well. 
"My style is roots overall, but roots can be anything," Matheny said. "But if I had to pick a main thing, it would be, like I talked about, that Americana, blues, rock just all mixed together that forms a really nice, flowing piece of music…it can speak to anybody." He said everybody can relate to it somehow. 
He said he likes to categorize himself as a multi-instrumentalist because he said he is usually able to fill in for anyone in any genre with just about any instrument. He plays guitar, fiddle, banjo, drums, harmonica, and piano. 
In regard to Songs & Stories, Matheny said, "It's a lot about grasping the younger generation because if they like something, they'll post it everywhere, they'll talk about it, they'll get other people listening to it. I think that if it grasps the attention of the younger generation, it'll really be something big because even though you're always telling a story, and it's coming from your heart when you're on stage playing roots music or blues or bluegrass or anything like that, it's not speaking the words and explaining it to people." 
He also explained a little bit about how Songs & Stories will be, "Short little segments explaining what your song's about, how it came to you, and how it should connect to other people. I think that'll really hit people right in their hearts, and it'll just take off." 
Matheny's overall goal as a musician is to find a way to make a living from his music. 
"I don't expect to play the arenas like Alan Jackson or somebody like that, but I could definitely see myself being like John R. Miller where he can at least make a living off his music, and he can do the thing he loves to make a living off of it," Matheny added.
He has released a number of songs on all streaming platforms. His latest new release is called "1813" and it is available on Spotify, Apple Music, and YouTube. 
"1813" is a West Virginia inspired song and emphasizes many Mountain State motifs that can be relatable for any West Virginian, as well as pull at the heartstrings. 
Matheny will be sharing his West Virginia melodies alongside Benson and Beverly on Friday at The Soapbox at 7 p.m.
Austin Glaspell: "You just gotta throw your soul into it"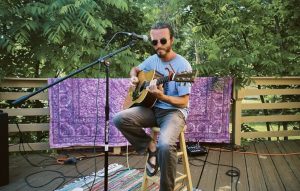 Austin Glaspell is a Lost Creek native who has had a passion for singing ever since he was little. 
"I've always considered myself a singer [even] before I'm a guitar player, and I always loved to sing growing up," he said. "I consider myself a rock and roll, blues, folk, country guy. You can put all those in one category–just Americana music."
Glaspell's motivation comes from his best friend, Jesse Johnson, who he grew up with and taught him how to play guitar and sing harmony. After three years of them playing music together, Glaspell said Johnson passed away from kidney cancer. 
"He's literally the driving force of why I keep doing this and my songwriting too," Glaspell added. "There's a force behind it, and when I'm really pouring it out in my music at a show or something, that's the kind of stuff that's on my mind–those people in my life that have affected my life, and I just pour it out."
In regard to Songs & Stories, Glaspell said he is excited about having it in the area. 
"What I'm most excited about is just to have different music venues and different styles of music and original music by local artists," he said. "The world seems to forget that there are local musicians out there with original music, so [Songs & Stories] gives everybody an opportunity to hear that side instead of just cover bands." 
Glaspell never forgets the soul in his music. "I sing and play straight from the soul," he said. "You just gotta throw your soul into it and your genre will be whatever genre you're meant to be. You just gotta be yourself."
He said that being himself and letting his soul shine through in his music is what it is all about. 
"Just being myself and letting the blues come out and rock and roll, country, and everything that we've all grown up on around here, and letting that be a part of who I am and seeing where it goes," Glaspell said. 
When writing his songs, he said inspirations come in spur of the moment. "When it comes, I make sure that I have pen and paper and my guitar around, and I'm just picking around and letting it flow," Glaspell said. 
In his songs, he likes to tell stories about what is going on in his own life, and he also enjoys writing folk stories about different pastimes, as well as old America and current things going on around him. 
Glaspell's new song "Feeling Better" is a rock and roll slow jam, and he said, "It's about a love that brings you back to yourself, and it's nothing toxic. A lot of the things we go through in life are toxic…and it's about love that's not toxic. It's love that's good for you." 
Also catch Glaspell sharing his tunes straight from the soul alongside Benson, Beverly, and Matheny on Friday at The Soapbox at 7 p.m.