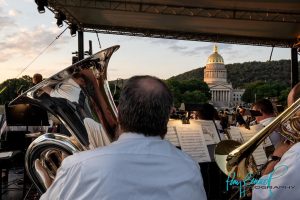 CHARLESTON, W.VA. (05/15/2023) – The West Virginia Symphony Orchestra (WVSO) invites the public to AVN Corp. Symphony Sunday, on Sunday, June 4 on the University of Charleston lawn to celebrate the event's 40th anniversary.
This long-time tradition on the lawn of the University of Charleston celebrates some of the community's most beloved
music, food court sponsored by Advanced Physical Therapy, children's crafts and games sponsored by CAMC and WV American Water, and artisan area beginning at 1 p.m. The day caps off with a grand finale performance by the state's premier orchestra and a fireworks display that illuminates the West Virginia Capitol.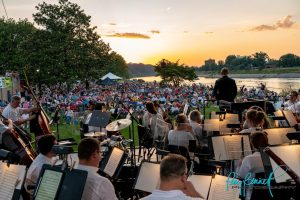 "As a West Virginia company, we are proud to once again support the West Virginia Symphony Orchestra and this incredible, annual event," said Steve Hedrick, AVN Corp. Chairman & CEO. "Rain or shine, the Symphony will host a day filled with incredible music, food and activities for attendees of all ages."
This year's theme is "There's No Place Like Home: A Ruby Celebration" to commemorate the 40th anniversary of the Symphony's gift to the community. While the entertainment and children's activities are free thanks to the day's sponsors, vendors will also be on site to sell a variety of crafts, beverages, and food. AVN Corp. Symphony Sunday 2023 is presented by the West Virginia Symphony League Committee.
A special VIP reception will be held from 6-10 p.m. and gives guests exclusive access to watch the performances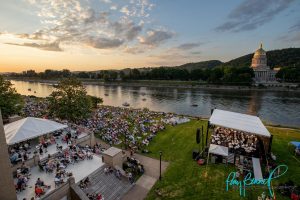 from atop UC's rotunda and patio. Heavy hor d'oeuvres, beer, wine and champagne will be served. Tickets to Sunday's VIP reception are $75 each and can be purchased by calling the WVSO at 304.957.9876, by emailing Amanda McDonald at amcdonald@wvsymphony.org or by visiting wvsymphony.org.
AVN Corp. Symphony Sunday 2023 is made possible through support from the following friends: AVN Corporation, the University of Charleston, the City of Charleston, The Greater Kanawha Valley Foundation, Steptoe & Johnson, PLLC, Amherst-Madison, Advanced Physical Therapy, Brewer & Company, CAMC, Central West Virginia Regional Convention and Visitor's Bureau, Express Employment Professionals, Greylock Energy, WV American Water, Missy & Art Rubin and Mike & Shelia Neal.
The West Virginia Symphony Orchestra is West Virginia's premier performing arts organization, presenting classical, pops, family and chamber-music concerts annually throughout the Mountain State. Currently entering its 84th season, the WVSO is a proud member of the community and enriches the region by providing affordable, high-quality concerts, collaborations with West Virginia arts organizations and a nationally award-winning education program.
MAIN STAGE SCHEDULE
1:00 p.m. – 1:30 p.m.       Logan Regional Community Band
1:45 p.m. – 2:15 p.m.       Kanawha Valley Community Band
2:30 p.m. – 3:00 p.m.       womanSong
3:15 p.m. – 3:45 p.m.       Jewel City Jazz Orchestra
4:00 p.m. – 4:30 p.m.       Tri-State Brass Band
4:45 p.m. – 5:15 p.m.       Charleston Metro Band
5:30 p.m. – 6:10 p.m.       WV Youth Symphony groups
6:15 p.m. – 6:45 p.m.       Greater Kanawha Valley Chapter of the Barbershop Harmony Society Ensembles
6:50 p.m. – 7:20 p.m.        Kanawha Valley Pipes & Drums
8:00 p.m.                            West Virginia Symphony Orchestra