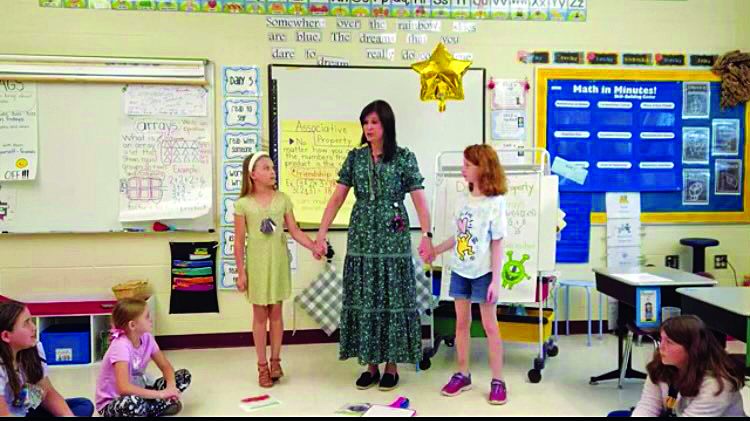 By Maralisa Marra
The West Virginia Department of Education announced last week that Lumberport Elementary third-grade teacher Shari Tonkery is one of the 10 finalists for the Teacher of the Year award.
"I feel honored to be a top ten finalist representing all hard-working educators in the beautiful state of West Virginia," Tonkery said. "I'm also so proud to represent Harrison County. We have an amazing school system that works diligently to prepare our students and staff."
"Lumberport Elementary has an outstanding staff and such kind-hearted students. Teaching is a passion. Educators have such a huge impact on the lives of the future," she added.
Tonkery said she encourages students to believe in themselves because when "students believe they can succeed, they will succeed." She teaches them that once they understand they do not know something "yet," they still have the power to learn it. She calls this the "power of yet."
According to the West Virginia Department of Education, colleagues said Tonkery is "a motivator, role model, advisor, and positive influence for every student that crosses her path." West Virginia's Teacher of the Year and School Service Personnel of the Year will be announced on Sept. 13 during a ceremony at the West Virginia Culture Center in Charleston.
Tonkery, who has taught in Harrison County for 14 years, loves teaching third grade and said "it's a wonderful age" because kids that age experience many lightbulb moments, and they are learning a number of new skills. "It is a very pivotal age," Tonkery said.
"It's just such a blessing, and I would give all the credit to the good Lord and all of the teachers that have helped me. Our little school is amazing at Lumberport," Tonkery said, "The teachers [at Lumberport] truly care and our administrator truly cares."
She said, "I'm just very honored that I get to be in this position."
One of Tonkery's former students, Macy Bart, reflected on her third-grade year with Tonkery during the 2021-2022 school year.
Bart said, "She cares about everybody, and she makes sure that everybody gets enough attention." She also said, "She makes us laugh."
Bart said that rather than sitting at their desks all day, Tonkery makes them move around and have fun while learning. "We're learning and we don't know it," Bart said, "She makes everybody feel happy."
Bart reflected on the brag tags that Tonkery gave students. Tonkery uses the brag tags, which have sayings referencing the students on them,  as a way to reward students' good deeds and triumphs.
"If you would do something good, she [Tonkery] would give you a little piece of plastic and you would put it on your necklace, and everybody had at least 20 brag tags," Bart said.
Bart said when they would do worksheets to prepare for tests, Tonkery would make it fun, and students were able to choose their favorite writing tool, such as colored pencils, crayons, or markers, to do their worksheet with. "She makes it fun to do a lot of things, so it's not just boring," Bart said.
Tonkery unified her class quickly, according to Bart. "Whenever she started teaching, everybody just started to come together," Bart said.
Bart said one of her favorite things about Tonkery is that "she doesn't look at everybody the same, she sees everybody with a different personality."
Tonkery made sure to recognize and build each of her students' strengths and see each of them for who they truly are.
Bart said she will miss Tonkery next year.