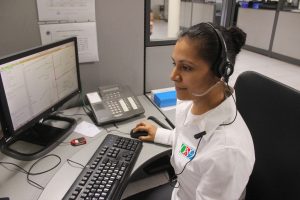 By Erin Beck
Editor
Eight counties in West Virginia, including Harrison County, lost 911 service for varying lengths of time earlier this month.
While Harrison County was able to reroute 911 calls to Marion County, other counties weren't as fortunate, according to emergency officials. Some callers had to look up the number for their local fire station or sheriff's department. 
Frontier Communications is the phone provider responsible for 911 service in the state.
None of the emergency officials contacted reported that anyone died or complained about being unable to access help, but those emergency officials also said they'd only know about such cases if members of the public reported them.
Three counties, Ohio, Marshall and Brooke, along with the West Virginia Enhanced 9-1-1 Council, filed complaints with the Public Service Commission of West Virginia, which regulates utilities like phone providers. On March 7, the 9-1-1 Council wrote in its complaint that Barbour, Brooke, Grant, Harrison, Taylor, Ohio, Marshall, and Wetzel counties were totally or partially without 911 service in the previous several weeks, especially March 3-6.
Harrison County's Office of Emergency Management posted on Facebook that those attempting to reach 911 in Harrison and Taylor counties should call the business line, 304-626-4900, at about 5:30 p.m. March 5 and posted that the lines were functional the next day at about 9 p.m.
"For a period of time when they called 911, they were either getting a constant ring, or a 'call cannot be completed as dialed,'" said Paul Bump, Harrison/Taylor 911 director.
He said after emergency officials learned of the outage, they quickly rerouted 911 calls to Marion County. But that's after Frontier's efforts to reroute calls to a local ten-digit number failed, he said. He described the outage as "100% phone company problems."
"Everything runs on the same network or series of networks," he explained. "When you dial 911, it goes to your cell carrier, then it rides the trunk to Frontier's network and then it rides to a server point in either Wheeling, or Clarksburg in our area – we've got two of them. There's all kinds of redundancies. And whatever happened in the fiber world, over the weekend, took out all the paths, or at least, the ring to where it couldn't get to where it wanted to."
Frontier made a temporary fix the first time, then a more complete fix later on, he said.
"Anytime you've got technology involved, there's always failures," he said. "This was the worst I've seen in a long time. We'll have other couple minute outages or something like that. They're quick to identify a problem and get it routed around it. Other areas have tremendous problems."
He hadn't heard of any people who went without help.
"Nobody called and said 'my house burned down because I couldn't call 911,'" he said. "We haven't heard anything adverse, although the fact that it happened is adverse enough for us."
The outage occurred in Ohio County from 2:52 a.m. to 4:49 a.m. on March 4 and again on March 5 from 4:05 p.m. to March 6 at 4:49 a.m., according to a complaint.
Theresa Russell, Ohio County 911 director, said Frontier would typically have rerouted to Marshall or Brooke counties, but those counties had also lost service.
She said even though Frontier was about to reroute 911 calls to a ten-digit Comcast line in about two and a half hours, dispatchers who answered didn't have access to immediate location information like they would have for normal 911 calls.
"It takes a lot longer to gather certain information that you need to get somebody to respond," she said.
She said "nothing drastic came out of it," to her knowledge, possibly because the initial outage occurred overnight. 
"But these are things that shouldn't happen in the first place," she said. "The public needs to rely on that service."
911 outages have happened multiple times in Ohio County, according to Russell. Last month, WTRF reported that Ohio County experienced a "planned" 911 outage during an ice storm and in July of 2019, MetroNews reported that 911 outages were also common in Lincoln and Marshall Counties. The PSC was also investigating those outages at the time.
In Marshall County, the outage lasted from 2:52 a.m. to 4:49 a.m. on March 4 and again from 4 p.m. on March 5 to 9:30 p.m. on March 6, according to a complaint.
Carol Robinson, 911 director for Marshall County, said that not only was the county unable to reroute to Ohio County, but it was also unable to reroute calls to a ten-digit line.
"Everything that could go wrong did go wrong," she said. "And it took out almost this whole panhandle."
No one from the public complained, she said, and people could still call the sheriff's office, she said.
"But you would have to look those up," she said. "That's probably not a number that everybody just knows. That's why 911 is there because you don't have to think about that in an emergency," she said. 
They've also experienced problems with Frontier before, she said.
"These aren't just your typical lines so you can call and talk to grandma," she said. "These are emergency phone lines, and they need to work."
Joseph Starsick, a lawyer for the company, wrote in the company's March 18 response to the complaints that the company does have alternate ways to route calls in the event of outages, that its network is "resilient," and that the outage occurred when "unrelated events caused unusual outages."
"On one side of the fiber ring, a tow truck with its boom fully extended hit Frontier aerial cable in Tunnelton, West Virginia, causing significant damage to Frontier's network which included damaging multiple poles and ripping fiber and copper lines down," he wrote. "Frontier dispatched construction, splicer. and line crews to assess and complete damage repairs, including placing new poles. repairing facilities, and other work to reestablish network connectivity. The necessary work was completed at 10:46 AM on March 6,2022. Unrelated to the tow truck damage, a separate and unrelated SONET outage in Frontier's network was detected between Sistersville and Moundsville at 754 PM on March 5, 2022.  Extensive diagnostic and repair work commenced. Service was restored at 10:59 PM on March 6, 2022."
In an email, Brigid Smith, spokeswoman for Frontier, did not respond to questions about the number of customers affected and any plans to prevent similar outages from reoccurring, saying only, "We are pleased the outage was restored and continue to strengthen the network."
According to the PSC's summary of the Brooke County complaint, at about 4:51 p.m. March 5, "Brooke County received a text message from the Ohio County 9-1-1 Director suggesting that Brooke County check its wireless lines. Upon checking, Brooke County discovered that the lines were down and not functioning. Brooke County asserted that it was not contacted by Frontier via email or telephone call to alert it of the service interruption. Brooke County further asserted that the lines were down for approximately twenty hours and communications were restored on March 6."
Jimmy Glasscock, Folsom fire chief in Wetzel County, said a non-emergency line was also out in Wetzel County, so people had to show up at fire stations or call fire stations directly to ask for help.
"I never heard of anyone later on saying they weren't able to get help because they weren't able to call or get ahold of anybody – thankfully not that I'm aware of," he said. 
The PSC will investigate and deliberate the case, said Susan Small, spokeswoman for the PSC. She said forms of restitution for the counties will be "up to the commission." 
The PSC fined Suddenlink more than $2.2 million last month for failing to provide "safe, adequate and reliable" cable television service.
Michael Tatum, assistant director of the 9-1-1 Council, wrote in the complaint that the council wanted the PSC to require Frontier Communications to correct the issues and provide the council with a plan of action. Tatum did not return a phone call.
In a March 16 filing, Tatum agreed to mediation in the PSC proceeding. Angela McCall, of Frontier, agreed to mediation the following day. 
Also, on March 16, the Public Service Commission consolidated the four cases and set a hearing for April 8 at 9:30 a.m. at the Public Service Commission building in Charleston.