By Erin Beck
Editor
The City of Shinnston has announced the line-up for Wind Down Wednesdays, an annual concert series held on The Green.
Two of the acts are Shinnston-based. The free series kicks off May 18 with Last Year's Model, consisting of musicians from Shinnston and surrounding areas, while on Aug. 3, Andy Benson of Shinnston will perform. 
Acts will typically be held on the first Wednesday of the month, except for the first event.
Rounding out the line-up, Byron Cooper will play June 1, John Bonnett will play July 6, and Aristotle Jones Music will perform Sept. 7.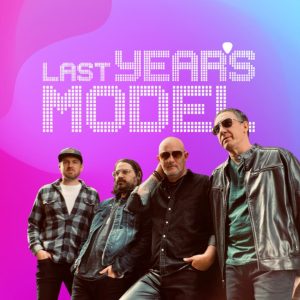 Brendan Gallagher, co-owner of Black & Teal Concepts, works with the city on event promotion and is founding member of Last Year's Model. He described his band as a mix of 1970s and1980s alternative music. They play originals and covers.  Last Year's Model consists of Gallagher, lead singer; Tim Shrout, bass player; Brandon Wood, lead guitarist; and Zach Kines, drummer. Their first full-length album, "The Neon Lights Collection," is available on streaming services. 
Cooper plays a mix of soul, funk and R&B. Bonnett plays an assortment of music, often 1970s and 1980s classic rock style.  Jones is known as the "Appalachian soul man" and does what is "best described as "Appalachian funk," Gallagher said.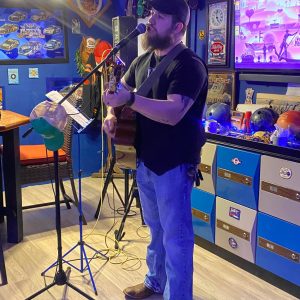 The Aug. 3 Andy Benson show could serve as an early birthday party for the Shinnston native, who turns 35 the next day.
A singer-songwriter who started teaching himself guitar around 18, Benson described his music as outlaw, traditional country.
"I'm not much of a pop music guy," he said.
Benson said his first gig was playing harmonica at the local Moose. He went on to play, often cover songs, with several bands over the years.
Over the past few years, he was drawn to writing music.  He still plays some covers, such as those of Tyler Childers, Hellbound Glory, Cody Jinks and Sturgill Simpson. Attendees at the Aug. 3 show can expect both.
Benson said he fell into songwriting by listening to musicians who write their own songs, such as Guy Clark and Townes Van Zandt. 
"Emotionally, it hits me in a different way," he said.
When he listens to music written by the performer, it feels more "true" to him.
"For me, it's more about touching somebody than talking about your tractor and your light beer and all that garbage," he said with a laugh.
He writes about "fated love," as well as the grind of everyday living.
"Everybody spends their time in the rat race in one way or another," he said. 
He said his songs are about "general struggles in life that we all go through."
Music gives both the listener and the songwriter a way to feel and process those emotions, he said.
"Everybody's got a reason for enjoying what they enjoy or coping with what they cope with," he said. "Sometimes it's the same, sometimes it's not, but music seems to be that universal language where you're getting what you want out of it, you're getting what you need out of it, if it only be for the three minutes that you hear the song."
He has a Facebook page, A.M. Benson, as well as an Instagram: @andrewmichaelmusic.
Each show begins at 6 p.m. Minigh Family Dentistry is the series sponsor. 
Food trucks will be on site at each concert, according to Gallagher.  Locally brewed beer will also be available and vary from event to event. Organizers also try to bring out kid-specific activities, such as the ponies last year.
Last year, the event drew 125 to 150 people each time, Gallagher said. He also said the event will give locals a reason to come see a vibrant and growing downtown.
"The main thing is about community and giving people a chance to just come out and see each other and hang out with one another and listen to some good music, eat some food and utilize our green space downtown," he said.
For more on the acts, Bonnett has a Facebook group, John Bonnett Music. Jones has a website, www.aristotlejones.com. Cooper has a Facebook page called Six Six.